Were these wrestlers' names chosen out of spite? Or were they meant to get a laugh out of the people in the back? One thing is for sure: this type of rib has happened more often than fans may realize!
1. Akeem "The African Dream"
Stories of ribs and practical jokes have been a big part of wrestling lore over the years.
Whether it be the mischievous antics of Owen Hart, Mr. Fuji, or "Mr. Perfect" Curt Hennig, these tales often show a different side of the wrestlers we grew up watching.
Although most hijinks occur behind the curtain, there have been a few surprising times when ribs trickled into the public eye in the form of a wrestler's name.
"One Man Gang" George Gray was a prominent heel in the WWF during the 1980s.
He main-evented the first-ever Survivor Series pay-per-view in 1987, reached the semi-finals of the WWF Heavyweight Championship tournament at WrestleMania IV, and was the runner-up in the first televised Royal Rumble in '88 (having won the first try-out of the stipulation at a house show one year prior), before the first official Royal Rumble PPV the next year.
With these distinctions in mind, it was all the more bizarre when the leather-clad biker suddenly became interested in his African roots.
Advised by his manager, Slick, One Man Gang would attend a ceremony in "deepest, darkest Africa."
He would emerge as Akeem — a jiving, flat-top Kufi hat-wearing depiction of an African despite being, in real life, born in South Carolina.
He was often billed as Akeem "The African Dream" as a jibe at then-NWA megastar, "The American Dream" Dusty Rhodes.
Dancing with a similar motion in parody to Rhodes, One Man Gang would remain in this role for about two years, even after the 3-time NWA World Heavyweight Champion Dusty Rhodes jumped to the WWF in 1989.
Rhodes and Akeem eventually clashed a few times in the WWF but would never have any significant bouts.
Gray would leave the World Wrestling Federation in October 1990, allegedly due to his fading role in the company. Rhodes, too, would depart the WWF a few months later.
Akeem isn't the only example of Dusty Rhodes being ribbed by name in the WWE, which leads us to number two on our list…
2. Virgil / Vincent / Shane
Another rib on Dusty Rhodes that debuted a year before Akeem was a gimmick portrayed by Mike Jones. Jones's most famous run in the WWF was as Virgil, the personal assistant of the "Million Dollar Man" Ted DiBiase.
The initial idea for the name Virgil came from Bobby Heenan as a jab to the then-WCW wrestler and booker, Dusty Rhodes, whose real name was Virgil Runnels.
Furthermore, when Jones jumped to WCW in 1996, he became "Head Of Security" for the New World Order, a first-line defense for the faction – meaning he would share the ring with the likes of Hulk Hogan, Scott Hall, and Kevin Nash, as well as the stable's opposition.
He rarely wrestled, often losing when doing so, but most of his time saw him in scuffles alongside the litany of nWo members.
Here, he would be named Vincent — a reference to rival company owner, Vince McMahon.
The Vincent gimmick was initially scheduled to be portrayed by Charles Wright (aka The Godfather, Papa Shango, etc.). However, the ex-Virgil allegedly received the role due to asking for less pay.
In 1999, still in WCW, Jones would further be renamed "Shane." This, of course, was in reference to Shane McMahon, son of the aforementioned WWF Chairman and CEO.
3. V.K. Wallstreet
A further name poking fun at Vince McMahon to those in the know was V.K. Wallstreet, portrayed by Mike Rotunda.
Rotunda had a storied career before his WCW repackage in 1995 and the evil taxman gimmick he would later be known for in the WWF.
He was a former 2-time WWF World Tag Team Champion alongside Barry Windham during his first WWF stint in the mid-'80s.
He would then have a brief time in the AWA before becoming a mainstay in NWA's Jim Crockett Promotions from 1987-'91. There, he would further delve into his amateur wrestling background as a member of The Varsity Club, winning World Tag and Television gold.
Upon return to the WWF in April 1991, he became Irwin R. Schyster — a former IRS tax collector. He would pick up three more World Tag Team titles and join The Million Dollar Corporation in this role.
Having had various gimmicks from an amateur wrestler to a captain to a tax collector, WCW wanted to take a different direction when Rotunda joined their roster in 1995.
His WCW run saw him named Michael Wallstreet, the same name he had used at an earlier point when a member of The York Foundation. However, he became V.K. Wallstreet the following week.
The initials V.K. were, of course, an allusion to Vincent Kennedy McMahon. Commentator Eric Bischoff would often rib Rotunda on air by asking what it stood for.
During this stretch, the father of both Bo Dallas and Bray Wyatt was primarily featured as a lower-card talent facing the likes of Jim Duggan and Konnan.
He also appeared mainly on B and C-shows such as Saturday Night and Worldwide. However, he did make it to the semi-finals of the WCW's BattleBowl in 1996.
Rotunda would ultimately drop the V.K. part of his name to become Mr. Wallstreet.
4. Freddie Joe Floyd
By 1996, with increased WCW competition and a dwindling roster, the WWF captured talents such as Steve Austin and Vader.
Thanks to Jim Cornette's significant presence within both promotions, the company also had a working relationship with Smoky Mountain Wrestling.
As a result, the WWF would hire some SMW talent, including Tracy Smothers, to add further depth to their roster.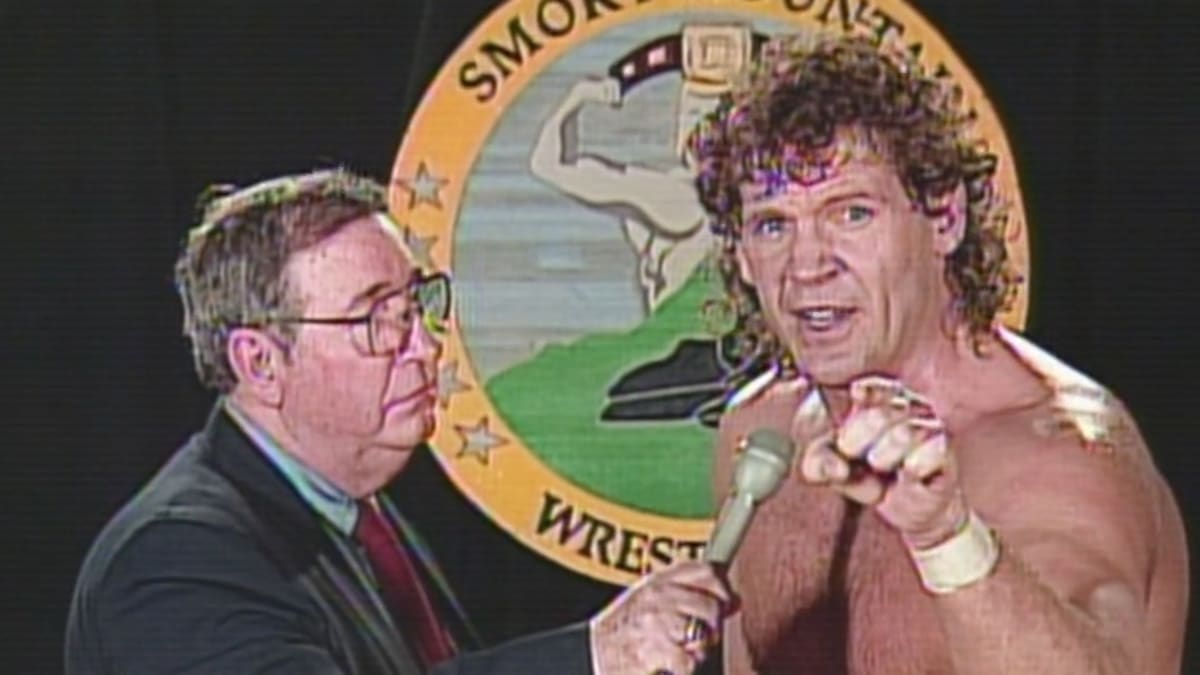 Smothers was a successful talent with name value by the time he had put pen to paper with the Federation.
He was a multi-time Heavyweight, Tag Team, and "Beat The Champ" Television Champion in Smoky Mountain.
He was also a part of the formidable WCW duo, The Wild-Eyed Southern Boys/The Young Pistols, with Steve Armstrong. Together, they'd capture the WCW United States Tag straps.
Smothers was the Wrestling Observer's Most Improved Wrestler of 1993 and would also become noted for his wrestling matches against bears, with Tracy commonly cited as one of the toughest wrestlers of his day.
The talent from Smoky Mountain Wrestling acquired by WWF mostly wrestled in the lower-card, in more offbeat gimmicks (i.e., SMW's Dirty White Boy becoming the toilet plunger-wielding T.L. Hopper in the WWF).
In Smothers's case, he would be repackaged as Freddie Joe Floyd – a rib of The Brisco Brothers (Jack and Gerald), whose real names are Freddie Joe Brisco and Floyd Brisco, respectively.
Floyd was also billed from Bowlegs, Oklahoma, similar to the elder of The Brisco Brothers.
Smothers's run in the WWF was short, lasting just under a year. His biggest moment during this stretch was likely his sloppy upset victory over Justin Hawk Bradshaw (better known as JBL) on a 1996 episode of Superstars.
The botchy-looking finish resulted from Bradshaw refusing to let Floyd beat him.
"[JBL] didn't want to put me over," Smothers shared in an interview with Hannibal TV years later.
"He told me, 'If you pin me, I'm going to kick out!' He kicked out, and then I just did the best I could!"
Smothers later cleared up that he didn't carry any resentment towards JBL, although he was pretty outspoken over Layfield's shooting on The Blue Meanie at ECW One Night Stand 2005.
After primarily being used to put over some of the more prominent stars in the WWF, Smothers would leave for ECW in 1997, where he had a career resurrection as the noted southerner portrayed an Italian "Main Man" in The Fully Blooded Italians.
However, Smothers could not entirely escape his stint in Connecticut as the crowd commonly heckled Tracy with chants of "Freddy Joey!"
5. Creative Control
WCW was always insistent at poking fun at the WWF, with a notable example being the naming behind the tag team Creative Control.
Having worked under various names, Harris Twins Ron and Don found work in SMW, USWA, ECW, and the WWF before their sustained push in WCW in late 1999-2000.
Upon their arrival in WCW, the duo became the bodyguards for "The Powers That Be," which was, in actuality, Vince Russo, whose face we would not see. Aligned with protecting the interests of Jeff Jarrett, they had a pretty significant role in the company.
As multiple-time tag team titleholders in their own right, they stepped into the ring with the likes of Bret Hart, Roddy Piper, and Booker T, amongst others.
The solo names of Ron and Don in Creative Control were Gerald and Patterson, which, of course, was as a dig at Gerald Brisco and Pat Patterson, then the on-screen scrooges of Vince McMahon in the WWF.
The WWF would not sign up the duo when they bought out WCW in 2001.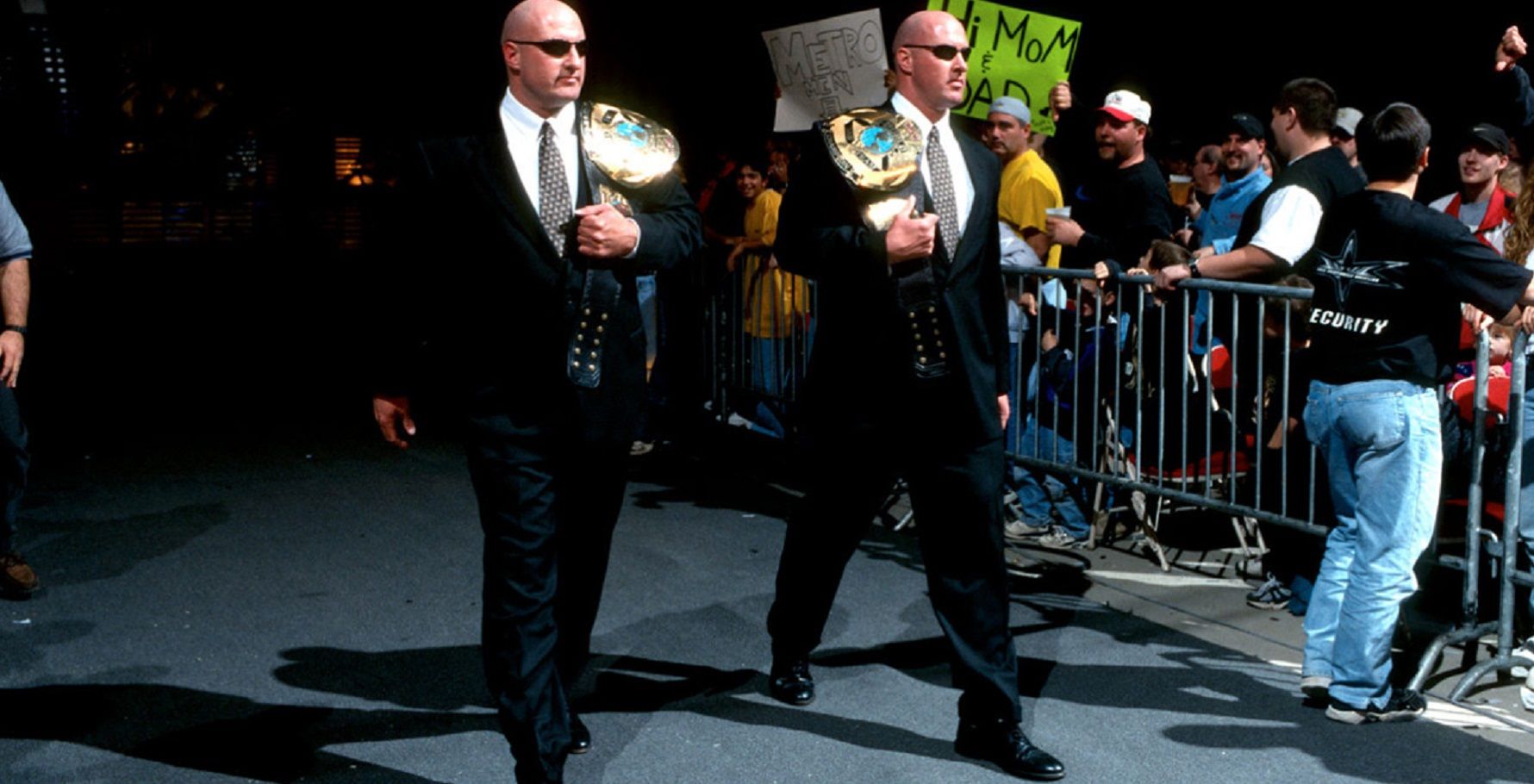 6. Simon Dean
Mike Bucci was a fan favorite in ECW. As Nova, Bucci would carve out successful roles for himself both as the comical superhero and as a parody of the nWo in the bWo, with him playing the role of Hollywood Nova – a spoof on Hulk Hogan.
In 2002, he was signed up by the then-WWF. He would have a few years in their developmental brand Ohio Valley Wrestling, with his first win being over "The Prototype" John Cena.
In OVW, he would win the world and tag gold while crossing the paths of Christian, Lance Storm, Damien Sandow, and Kanyon before being named the assistant booker of the promotion.
When jumping to the main WWE roster in August 2004, he was rechristened as Simon Dean — the reverse of Dean Malenko's real name, Dean Simon.
He used the "Simon System" to get himself into shape on-screen, a regime of fitness through diet, exercise, and supplements while also insulting the physiques of the audience.
It was a gimmick that gave Dean a chance further to show off his comedic side through infomercial-mocking skits.
As Simon Dean, he would not have too many high-caliber bouts, with his biggest seeing him take on The Mexi-Cools and Bobby Lashley. He would also become aligned with former Tough Enough winner Maven and form a short-lived tag team.
On a 2005 episode of Heat, the Maven and Dean alliance beat an enhancement duo that included CM Punk.
Sometimes switching between Dean and Nova, commentator Joey Styles would regularly take the opportunity to ridicule the gimmick.
After being struck with a chair at 2005's ECW revival show One Night Stand, Styles shouted, "That's more painful than having to be Simon Dean on national T.V.!"
7. Davey Meltzer
For the most part, local competitors are given fairly generic, unremarkable names to make them not overshadow the wrestler they are putting over.
In 1990, Herb Abrams's UWF had their first television show. The first match on the card seemed like an insight into the promotion's booking ideology.
In a sub-4-minute squash match, "Dr Death" Steve Williams defeated a journeyman by the name of Davey Meltzer, aimed at the publisher and editor of the Wrestling Observer Newsletter, Dave Meltzer.
Abrams wanted to mock Meltzer's name in the form of a jobber after Dave negatively rated the promotion in his newsletter.
After the loss, Williams would shove some paper down the throat of Davey Meltzer and then throw some dirt on top of him. A not-so-subtle dig on "Dirt Sheets"!
("Dirt Sheets" is a term used in professional wrestling culture to describe a wrestling magazine, wrestling newsletter, or website covering professional wrestling from a real-life perspective instead of treating the storylines as legitimate.)
Davey "The Observer" would have more matches for Abrams, with three UWF tapings occurring within a day.
The other bouts saw him lose to Cactus Jack and The Black Knight (played by Billy Anderson).
At the time, only those in the know would have got the reference, but he has become a more well-known character in the modern-day.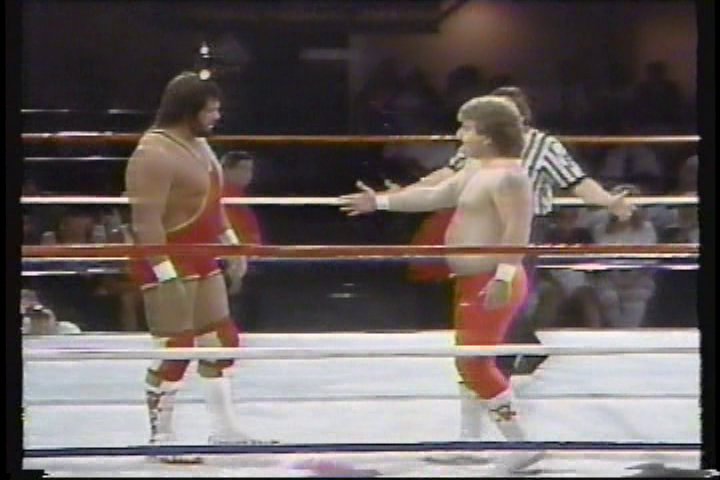 8. Willie Watts
Before joining ECW, Paul E. Dangerously (aka, Paul Heyman) was a significant character on WCW television.
As both a commentator and manager, he managed the original iteration of The Midnight Express, "Mean" Mark Callous (who would find fame soon later as The Undertaker), and The Dangerous Alliance.
During Dangerously's time in WCW, Bill Watts became Executive Vice President of the company, succeeding Kip Allen Fry in 1992.
Apart from the changes Watts made on-screen (making WCW more traditional by removing the outside mats, making top rope moves and throwing your opponent over the top rope illegal, and separating heels and faces), he caused some changes backstage.
In 2009, Heyman accused Watts of making insensitive statements towards him during his WCW days. Heyman would leave WCW in 1993 to start booking for the NWA's Eastern Championship Wrestling.
In February of that year, Heyman would take WCW to court, where he alleged wrongful termination and ethnic discrimination as a Jewish community member. The case would eventually settle out of court.
The circumstances of Bill Watts's departure from WCW in 1993 are just as controversial.
In 1991, Watts spoke to a wrestling newsletter condoning the acts of Lester Maddox, the future Governor of Georgia.
In 1964, Lester chose to close down his restaurant after being told he needed to serve black customers, and Watts credited him decades later for standing up for what he believed.
Watts also made several other controversial statements relating to race and sexual orientation.
Despite these claims, "Cowboy" Bill insists they weren't why he got the sack from WCW.
Seeing an opportunity, when Joey Styles was "vacationing" from ECW (he actually left due to financial disagreements), he was replaced by a commentator who went by the name of "Willie Watts."
Nicknamed "The Scoop," it was a clear shot at the former head of WCW, with who Heyman had a bone to pick.
"Scoop" Watts did not last long in ECW, and Styles would reclaim his seat at the announcers' desk a few weeks later.
9. Tripp Bradshaw
A 2017 rejuvenation of Jerry Lawler's "King's Court" talk show featured Dolph Ziggler as a guest.
As a way to garner heat for "The Show-Off" and make his character more intense, Dolph superkicked "The King" in the left side of his torso, a reference to the 2012 heart attack Lawler had that was triggered by a match featuring Ziggler.
As a way to treat this angle as tremendously serious, heel announcer JBL would come to check on Jerry afterward.
However, after getting up from his chair, the Texan comically stumbled to the floor in an attempt to rush to the ring.
The incident quickly caught on, with many amused by the moment. The cameras caught this, which ruined the tenseness of the situation and made it all the funnier.
The WWE wasn't going to let this go down without poking some fun.
Local wrestler Palmer Cruise, who would face The Brian Kendrick on an episode of 205 Live the following week, would be rechristened as Tripp Bradshaw.
He would eventually be defeated in about two minutes.
Rather strangely, JBL would fall over again at the 2017 Elimination Chamber pay-per-view entrance. As for Tripp, the Michigan-based wrestler has made appearances for AEW on Dark and Dark: Elevation.
10. Randy Hogan
With balding blonde hair and a handlebar mustache, Randy Hogan (real name Randy Muehl) used the name "Hogan" due to his resemblance to a wrestler who regularly used the word "brother.".
In 1988-1989, Randy Hogan worked as an enhancement talent for the NWA's Jim Crockett Promotions, mostly wrestling tag team matches on NWA Pro and NWA World Championship Wrestling.
During his time here, he stood across the ring from the likes of Sting, Abdullah The Butcher, Kevin Sullivan, The Midnight Express, and The Road Warriors.
From there, Randy would shave off the mustache to become Scott Colton. The WWF did not want their biggest star parodied at their own hands.
In 1993, he debuted for WCW, wrestling Vader on Saturday Night. Randy Hogan would reappear a few months later to lose to The Nasty Boys.
His partner in that match would be PJ Walker, the future Justin Credible.
That is not where his WCW run ends. Funny enough, while working for a local radio station, he was made the reporter on the story of WCW's 1994 acquisition of Hulk Hogan.
The former Randy Hogan would field questions about the newest signing of World Championship Wrestling.
These stories may also interest you:
---
This post may contain affiliate links, which means we may earn a commission at no extra cost to you. This helps us provide free content for you to enjoy!
---
Pro Wrestling Stories is an MSN Syndicated Publication.