Herein we feature some of the wildest, most outrageous heels the sport of professional wrestling has ever seen. These were the pioneers of the "hardcore" style we began to see in the early to mid-'90s in promotions like FMW and ECW.
Without further ado and in no particular order…
1. Ed Farhat, "The Sheik"
Just about everywhere The Sheik went in the '50s and '60s, he was a top draw. His covers on the wrestling magazines of the '70s full of blood and gore are legendary. According to Bill Apter, Stanley Weston, former publisher and owner of Pro Wrestling Illustrated and many other magazines of the time, said, "There are two things that sell on the cover: broads and blood."
He was "hardcore" before the term was "a thing" in wrestling. While this list of twelve wrestlers are not necessarily in order of wildness or greatness because this is not an opinion piece, at least permit us to place The Sheik at the top.
His wild-eyed antics, his trusty No. 2 pencil he used to jab his opponent's foreheads, and the gift of being able to get the crowd in a frenzy had no peers.
Everyone wanted to see The Sheik defeated as he went up against the likes of Bobo Brazil, Antonino Rocca, Freddie Blassie, and Buddy Rogers, to name a few he faced during his almost 50-year career. Sadism, violence, and the threat of maybe even unleashing fire from his fingertips sold-out arenas nationwide. He would never talk directly to the people, so in different instances, he had managers like Eddie Creachman and Abdullah Farouk (who later became The Grand Wizard) that served as mouthpieces that would incite the people even more.
Working in Toronto under promoter Frank Tunney from 1964-77, he had a 127 match unbeaten streak, regularly drawing bi-weekly crowds of 10,000 people. Andre The Giant is the one who finally ended the streak and only because The Shiek was disqualified.
Even during the '90s, when The Sheik was in his sixties, he could generate major heat as Dave Burzynski AKA Supermouth Dave Drason, his manager at the time, explains in "The Heels" by Greg Oliver and Steven Johnson. "I was always scared to death because of the heat the guy could generate. I never knew what was going to happen to me. Going to the arena was fine, but the walk back to the dressing room was the scariest moment I've ever had in the business… It was justified because of the times we got attacked."
He was the Pro Wrestling Illustrated Most Hated of 1972. From 1964-1980, he operated out of the Detroit promotion that he owned. He faced Bruno Sammartino 3 times in Madison Square Garden. He was a 12-time NWA U.S. champion (Detroit). His legacy continued after his retirement by training Rob Van Dam and his nephew Sabu, both of which went on to have very successful careers in ECW and beyond.
2. Mad Dog Vachon
"He was a horrible worker, and you never knew what the hell he was going to do, but he drew money because of the intensity of who he was. His interviews were so dominant because he believed that he was the toughest son of a bitch that walked. And he may have been!" – Bill Watts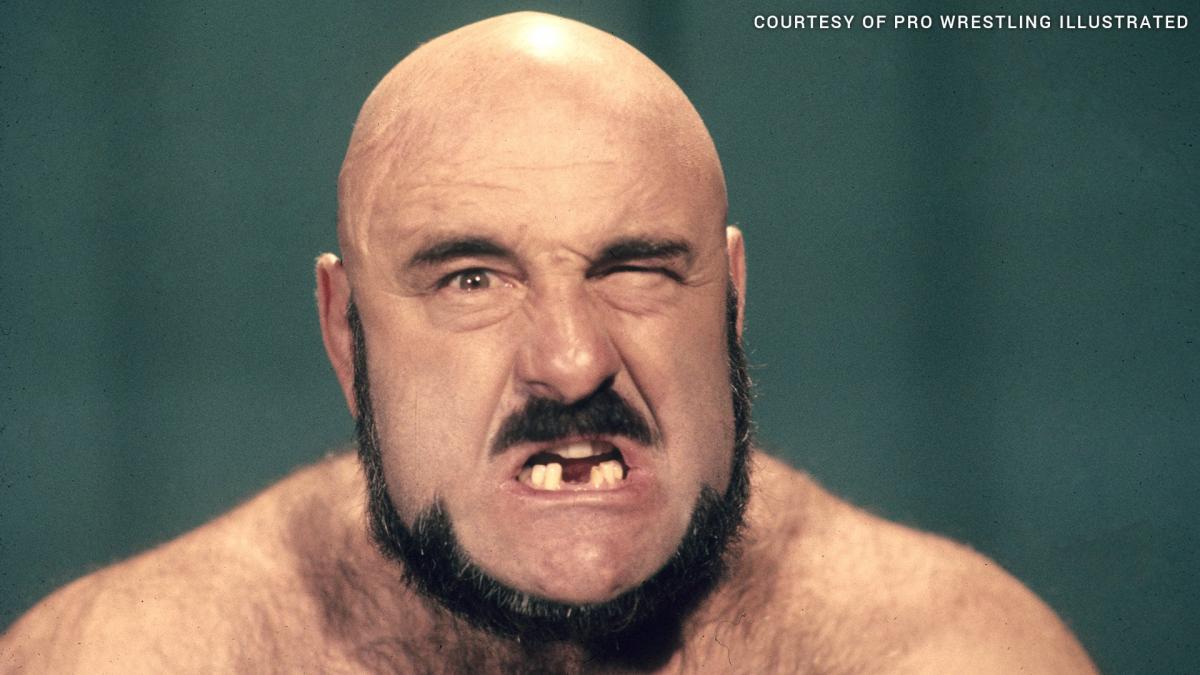 Mad Dog Vachon grew up in a family of thirteen kids in Ville-Émard, a working-class section of Montreal, Quebec, and learned to be tough right away. He dropped out of school at age thirteen, and as a youngster, when he could afford it, he, along with his brothers, would go to the Montreal Forum to watch the matches. He broke into wrestling in the early '50s.
"When I started wrestling professionally, I have to admit I was a good-looking young man, had a lot of hair and beautiful teeth. But it didn't take me long to realize that good guys finish last."
Outside the ring, stories of "Mad Dog" getting into bar fights are common, as told by his contemporary Dutch Savage. "You'd have to hit him with a hammer or shoot him, or he'd kill you."
Killer Kowalski has a bar story too. "Someone gave him a little flak, and he beat the shit out of the guy. Took a jar, or something like that, and hit the guy over the head with it."
Mad Dog's brother Paul adds, "The guy would rather fight than eat."
He was hated in the ring but once retired, he became a folk hero in his native Quebec, where he had a farewell tour and became a spokesperson for different products.
Mad Dog Vachon Shoot Fight Stories – An Animal in and Out of the Ring!
3. Bulldog Brower
Wrestling manager James Mitchell once recalled, "Bulldog Brower was one of the great old-time heels that made me want to get into the wrestling business. He remembers an angle for the IWA in the Carolinas where Brower attacked Mighty Igor on his birthday, smashing Igor into the birthday cake and strangling the puppy dog he'd received as a present. It's a shame they don't make them like that anymore. 'Brower Power' indeed!"
Brower didn't start as a heel, but it fit him a little too perfectly when he turned.
In London, Ontario, in 1961, a cameraman filming in studio for CEPL-TV laughed so hard at Brower's manic behavior that the Bulldog punched him and tore up the studio. The station went off the air for thirty minutes, and that was the end of the interview.
His eyes would bulge out when he would choke his opponents, and some say this gave him the visage of a bulldog. Famous for fighting spectators and swinging shovels, he even pulled a pistol on fans to protect Blackjack Mulligan, who had already been stabbed after fans were upset he had defeated Pedro Morales.
The "One Man Riot Squad" was indeed a handful with shades of Dick The Bruiser in his body type and his constant advancing offensive brawling style that was very entertaining to watch. Opponents always had to be aware of that cocked right hand that seemed to land square on their jaw every time. When it did land, it was the beginning of the end!
WATCH: Bulldog Brower has no mercy on a young Sika Anoia!
4. Pampero Firpo
One of the most unforgettable characters in all of wrestling, Pampero Firpo trained by Rudy Dusek, debuted in 1953 and enjoyed a 30-year career in 21 foreign countries on 5 continents. He and his caveman look, loud gravelly animalistic voice, and the shrunken head named Chimu was a major draw throughout his career wherever he went. His unpredictable and unorthodox brawling style made him a must-see attraction. His feud with The Sheik in the Detroit territory kept the fans on the edge of their seats. In a conversation in 2012 with Bill Apter via Skype, Firpo said that Antonino Rocca was his hero when he started, and he enjoyed working with Angelo Savoldi. In 1972 he wrestled Pedro Morales in the WWWF in a losing effort.
He was a true wildman in the ring but also a wildman behind the wheel, according to Dory Funk Jr.! Dory once said, "I made the most harrowing trip from the HIC Arena in Hawaii after wrestling there to the airport with Pampero Firpo driving. I feared for my life. Man, the way he drove, I could not believe it!"
Whether working heel or face, he was a gifted performer in the 8,882 matches that he had. His most famous run as a face was against the hated Shiek after being fireballed by him. He captured the U.S. Title from him in 1976 as well as many other NWA titles. His signature move was a crushing bearhug or his famous claw hold (el garfio), which went over an opponent's face.
Larry "The Axe" Hennig once mentioned, "Pampero Firpo had a look about him that was believable."
He was truly a terror in the ring but a dedicated family man outside.
Fun fact: Firpo's iconic "OOOOH YEAAAAAHHH!!!!" was the inspiration behind Macho Man Randy Savage's iconic catchphrase. 
Pampero Firpo is now retired and enjoys relaxing and spending time with his family and grandchildren. Now, when interviewed, he is soft-spoken and candid about his life in wrestling. For years, we were unsure if he had an indoor voice! Wrestling is still looking for another Pampero Firpo, but there can be only one.
He is a Cauliflower Alley Club Honoree from 2001 and is in the Professional Wrestling Hall of Fame class of 2018. His daughter Mary runs a Twitter account dedicated to her father's wrestling career and legacy, where you can follow here: @PFirpo1.
Watch Pampero Firpo deliver a fantastic promo:
5. Tiger Jeet Singh
"Tiger" Jeet Singh might be the greatest heel that you may not be too familiar with. After watching wrestling on television, he emigrated to Canada, convinced that he could wrestle too. Once trained by Australian wrestler Fred Atkins, he debuted in 1965. He competed in the U.S. all over the different territories against the likes of Sweet Daddy Siki, Andre The Giant, and Whipper Billy Watson. Soon afterward, he was convinced wrestling was for him after earning $6,000 for a single match when previously he was used to only getting $100 a month.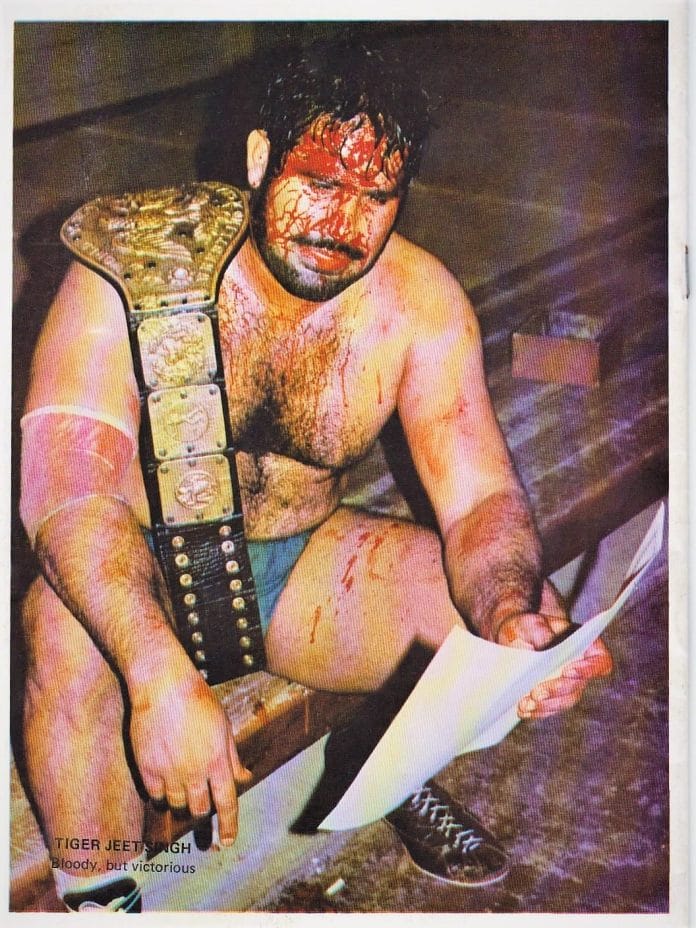 But in "The Land of the Rising Sun," he became well-known and wreaked havoc for 22 years. It all started in 1972 after he got into a brawl with Antonio Inoki in a shopping center that sparked a media frenzy. The feud was set, and Inoki "broke" Singh's arm in a '74 NJPW match, but Singh came back in '75 to win the NWF belt (brought over from the U.S. after defeating Johnny Powers) from Inoki in a match that drew 60,000 spectators.
At his peak in Japan, Singh was a heel fans loved to hate. They wanted to take pictures with him, but they were also scared to death that Tiger might hit them with either the sword or stick he would carry around when out in public. He'd often hit people indiscriminately, so crowds would converge out of curiosity but quickly scatter when Singh would threaten violence. Making his entrance to the ring, he opened a path for himself much the same way. He became a person who simply could not walk outside his hotel room without being mobbed.
In Japan, just like with Inoki, many fans would want him to slap them in the face. To them, it was something special. And yet in Canada, where he first arrived from Punjab, India, Singh is just another normal person that goes mostly unperceived. In the late '70s, he teamed with Abdullah the Butcher frequently, and in the early years of FMW (Frontier Martial Arts Wrestling), he had a bloody feud with hardcore wrestler and owner Atsushi Onita. In 2004 he had memorable matches against Naya Ogawa of The Hustle faction in Japan, where he said to the press, "I want to satisfy myself, I am thirsty for Ogawa's blood. This will be the first time in his life where he feels real pain."
The documentary entitled Tiger! chronicles his life story from his life in India to his work as a wrestler.
6. King Curtis Iaukea
King Curtis Iaukea. You may not always remember how to pronounce his last name, but after you've seen his forehead for the first time, you'll at least tell people afterward.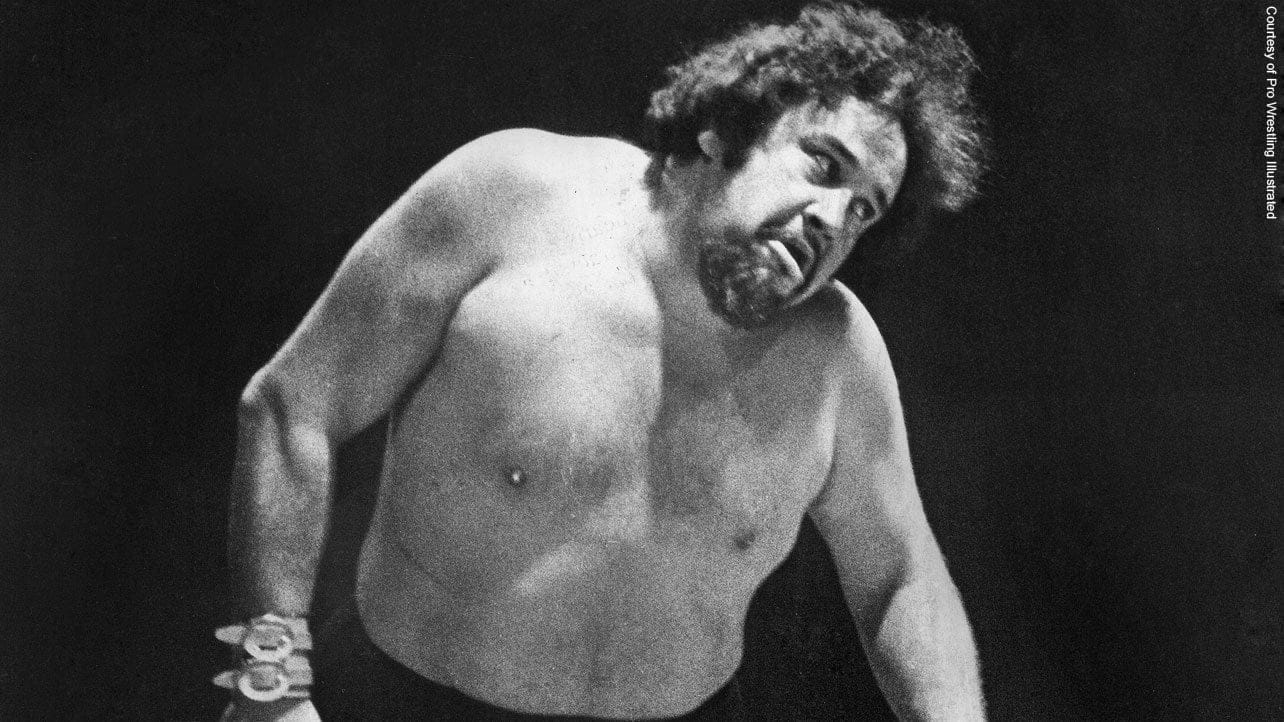 Trained by Lord James Blears and Joe Blanchard, the bloodthirsty heel from Hawaii was part of Australia's wrestling boom during the mid-'60s and joined the "People's Army" along with Mark Lewin and Spiros Arion. Rumor has it that this concept influenced Kevin Sullivan's "Army of Darkness" in the '80s, where King Curtis became "Chairman of The Board" along with a motley crew of miscreants. He later reappeared with Sullivan's other faction "The Dungeon of Doom" in '95 for WCW as "The Master."
Famous for being a bleeder, a mad-man inside the ring, and a gift for storytelling when handed a mic, he was well-liked by his contemporaries. His last great run was against Dusty Rhodes in '76, where they had several brutal battles where "The Dream" and "Da Bull" may or may not have carved their initials in each other's foreheads during them!
Unfortunately, in '79, his in-ring career came to a halt when he contracted a virus through his cuts from the ring mats. Rumors of Kevin Sullivan and others doing lines of cocaine on his forehead are unconfirmed but always mentioned!
Gary Smith says, "There was no one like Curtis. He was more than a main-event wrestler. He was an attraction similar to Mad Dog Vachon, George 'The Animal' Steele, or even Andre The Giant."
Dusty Rhodes once said, "He had a magnetism about him. You always hear the word charismatic. He was infectious, his laugh. I loved being around him as much or more than probably anybody in our industry for years. He loved his pot, and that's what it was all about!"
7. Wild Bull Curry
Whether working as a heel or a face, Wild Bull Curry always stole the show.
"What he had going for him was his million-dollar face- he looked like the devil himself," said Emile Dupre, who fought Curry in the Canadian Maritimes. "He had eyebrows right across that were almost two inches thick. He had that tough-looking body."
Detroit veteran Jim Lancaster adds, "He was the first guy who scared me. The way he came to the ring- he would just hit guys in the head and make them bleed. That's all he did. He never had a finish. He'd just pull out some brass knuckles, knock them out and cover them."
In the '50s, he became popular in Texas for his brawls against Danny McShain, Duke Keomuka, and Pepper Gomez. He was as unpredictable as they came. Once, while Curry was running up and down and slamming against the ropes, Dallas TV announcer Bill Mercer who was at the edge of the ring all the sudden looked up and then after Curry looked down on him, Mercer got kicked with a boot to the face courtesy of Wild Bill Curry.
In another instance, while working with Dick Brown, Curry noticed a beer vendor selling to customers in the front row, not paying attention to the match. He asked Brown to launch him towards the vendor, and Curry landed on the guy's back, causing beer bottles to fly everywhere.
One of Curry's trademarks was that wherever you hit him, he'd clutch his right ear. You could kick him in the leg, he'd grab his ear. Stomp his foot, he'd grab his ear. Opponents had to be careful with a famous left hook he'd catch you in the gut with, where he'd do a side step and then hit you with a sweeping open hand. The slap to his opponent's gut would make the crowd pop. Even when Curry was approaching seventy, Bobby Fulton of The Fantastics said Curry was still magic as the grandfather of hardcore. Jim Lancaster, a 20-year veteran of the ring, says that Curry believed that nobody was hotter than him and later admitted to him that he was disappointed he never got a run with The Sheik's U.S. title in Detroit. Bill Apter remembers Curry throwing ashtrays at him while backstage!
WATCH: More outlandish pictures of Wild Bull Curry
8. Killer Kowalski
Certain unintentional but fortunate events cemented Killer Kowalski's image as a "Killer." In 1952 a couple of years after his debut, Killer Kowalski ripped a part off Yukon Eric's already cauliflowered ear after performing a knee drop. When he visited Eric in the hospital, who Kowalski said resembled Humpty Dumpty with bandages around his head, the two began laughing because the incident had been an accident. But the press picked it up and wrote that Kowalski was there laughing at his opponent's misfortune.
In 1958 wrestling against Pat O'Connor, guest referee, and former boxer Jack Demsey got kicked in the diaphragm by him and was later hospitalized. The press also twisted the facts and helped further solidify Kowalski as a ruthless heel.
Kowalski had a unique physique for the time, at 6'6" and 280 lbs. Early in his career, he was handsome to many women, and this was where men started to hate him even before he became "Killer." His height, trademark claw hold, and unceasing in-ring style where he rarely gave his opponents a breather is what many people remember him by.
"I had tremendous imagination," Kowalski once explained, "I was like a magician when I walked to that ring. I performed things people had never seen before."
He helped put a young Andre The Giant over when the two faced off. Even though Andre lost, he looked good in the process because the more established veteran Kowalski looked short in stature than Andre.
Jacques Rougeau Sr. believes Kowalski was successful because he had a vicious way of wrestling, and people thought he was a maniac. But he was always a hard worker in the ring and felt that Kowalski never had a bad match. "He was the nicest guy in the world, but in the ring, he looked like a real killer."
Further reading: Killer Kowalski – A Tribute to My Friend
9. George "The Animal" Steele
Known to many as "The Animal," George Steele first went into wrestling to supplement his income as a school teacher and coach. To hide his identity, he used a mask and named himself "The Student." Bruno Sammartino liked what he saw and brought him into Pittsburgh, Pennsylvania, in 1967 for the WWWF.
A trademark hold that he retained throughout his career was a Flying Hammerlock, where he would lift an opponent by the arm while holding it in a hammerlock position and letting them drop while not letting go. "That became what I think the most convincing vicious hold in the history in wrestling," says Steele, who throughout his career, was known as an unpredictable brawler. "I'm not talking taking bumps like a Moonsault off the top rope; I'm talking wrestling hold."
While in Pittsburgh, he also began tearing up turnbuckles with his teeth, which many colleagues say were razor-sharp, and using green Clorets to color his tongue to match the color of his alma mater Michigan State. He worked against Bruno Sammartino, Chief Jay Strongbow, and Pedro Morales, drawing large crowds. Unlike most wrestlers of the time, Steele usually didn't travel to different territories. He remained in the northeast and was brought in on special occasions to keep his character fresh when he wasn't teaching.
Before the WWF decided to soften Steele's image in the mid-'80s and turn him into almost a cartoon character by giving him a "Mine" doll, Steele was a menacing heel that people genuinely feared. Veteran Dave O'Hannon, who had known him for years, recalls, "There were heels that fans would go to and get close to. On the other hand, George had the fans really wary of him because he was that scary a heel.
O'Hannon continues, "People didn't want to approach him because they didn't know what they were going to get. They weren't positive about him; he had a look like a Hannibal Lecter kind of personality."
Former referee Dick Woehrle remembers a match he was presiding over when George Steele started throwing turnbuckle stuffing on top of the head athletic commissioner wearing his expensive suit while at ringside. The commissioner asked the referee to stop the match, and Woehrle took the opportunity to tell Steele that the commish didn't like him doing that. "The Animal" didn't care and ripped open another turnbuckle and threw a handful of stuffing on top of The Commissioner once again. That's when the referee was left with no choice but to disqualify him. Steele went ahead and punched the ref with his daughter and friends in attendance.
Further reading: George Steele on Becoming The Animal and His 'Fetish' for Turnbuckles
10. Jos LeDuc
With piercing wild-looking eyes, fearsome-looking Jos LeDuc, nicknamed "The Canadian Freight Train," was a powerhouse in the ring where he was all business. He will always be remembered for mutilating his arm with an ax on live television, where he was supposedly taking a blood oath promising to dispose of Jerry Lawler forever. He had first tried doing this in a taped interview and was stopped by Memphis co-promoter Jerry Jarrett. He objected to what Leduc was doing and told him the station would not air it anyway. Nonetheless, he tried it again and succeeded on live television, to the horror of announcer Lance Russell and everyone else watching.
In Memphis, Jimmy Hart tried to position LeDuc as a lumberjack strongman and pulled stunts like Leduc pulling a car around the Mid-South Coliseum with manager Jimmy Hart on the hood. He also braced himself against a wall and stopped a car from going forward just with his legs. His greatest success came in the southern territories under the Fullers in the Gulf Coast or the wars he had with Lawler in Tennessee where in one incident, he launched Lawler over the top rope onto the announcer's table nine feet away wherein "The King" legitimately injured his leg and was out several weeks.
Dusty Rhodes said in his autobiography "Reflections of Wrestling's American Dream," "Leduc drew so much fucking money in the south and in Florida, it is unbelievable."
"Man, oh man, the guy loses touch with reality, that's all there is to it!" – Announcer Lance Russell after witnessing LeDuc's famous blood oath.
Watch Jos Leduc Deliver His Legendary Blood Oath Promo:
Further reading: Who Is Wrestling's Greatest Monster Heel of All Time?
11. Killer Tim Brooks
Killer Tim Brooks, with his leather jacket, rugged looks, long beard, and long hair on a balding head, looked more like a barroom brawler than a wrestler. "I was not a technician; I was a fighter. I think what people liked about me when they knew I was going to have a match, it was going to be a fight. It was going to be chaos. It was going to be wild. It wasn't going to be your average wrestling match. Also, I think they knew I was going to take it to that babyface's ass!"
Tim Brooks is Dick Murdoch's cousin, but unlike Murdoch, who started refereeing at age fourteen and started wrestling soon afterward, Tim began after a three-year stint in the army from '63-'66. He was a military police member and recounts, "We went into a lot of bars, and whorehouses, and such, and broke up fights. I don't know if it prepared me for wrestling, but it got me being active in a rough kind of way. The real craziness came in wrestling, not in the army."
Brooks was considered one of The Sheik's better tag partners and had memorable feuds with Jose Lothario and Tex McKenzie.
Bruiser Brody was his biggest friend in wrestling, but Roddy was a real good friend, he says. Unfortunately, the outlaw in Brooks and the partying and drugs caught up to him. He began having problems with promoters like Dutch Savage. "They (Brooks and Piper) did a lot of toot together. Their temperament changed when high. It's like a dynamite keg all the time. You had to walk around them with kid's gloves."
In 2014 he was still involved in wrestling, this time as a promoter and instructor. Sadly, Tim Brooks died on June 30, 2020, at the age of 72, following a battle with cancer.
"It's in your blood. It's called the wrestling disease. There is life after wrestling. It's not the same, but there's life." – Killer Tim Brooks
Watch Bill Apter speak with Killer Tim Brooks in 2016:
12. Abdullah The Butcher
"I really believe Abdullah The Butcher was the best heel for his time. He took The Sheik's gimmick and took it to the next stage. If you are asking about villains, I think Butcher is number one," once said friend and rival Johnny Powers.
Abdullah, with a forehead that rivals the late King Curtis Iaukea, bit, gouged, and bled his way into being considered one of the wildest, craziest, most violent wrestlers (performers?) ever to step into the squared circle. Yes, The Sheik will always have his place, but Abdullah's antics always come up when "hardcore wrestling" is mentioned.
With Abdullah, you never had a wrestling match. You had punches, karate thrusts, kicks, choking, biting, and guaranteed lots of blood. Abby always had a weapon hidden like a fork or a pencil somewhere on his body, probably in one of his folds or in his ample Taekwondo pants. Razors taped on his fingertips was nothing surprising.
Veteran announcer Jack Reynolds remembers on a tour of India in '95, where he was taking care of Abdullah. In the hotel lobby, 2-300 people were waiting to maybe catch a glimpse of the scheduled wrestlers. When he arrived with Abby and saw The Butcher, all the people in the lobby cleared out.
Lots of times, he wouldn't even try to hide his weapon to the dismay of referee Tommy Young who thought his matches were a nightmare. Young once said, "It was miserable because he'd come into the ring, with a gimmick (weapon or foreign object) the size of a yardstick, and you couldn't miss it if you tried, and he'd just do stuff right in front of me, and make me look like an idiot. He didn't work with me."
Jacques Rougeau Sr. who estimates that he fought (not wrestled) Abdullah around 50 times, remembers that. "You'd just touch him, and he'd cut open right away. He'd ask you to do it. He'd ask you to give him a good punch, and he'd start bleeding and go like a wildman. It was something new, an attraction."
He has traveled the world and faced countless opponents and what he left in his wake is not pretty. Outrageous? Yes. Controversial? You bet. Sick? YOU ask him."
Note: Abdullah The Butcher has come into controversy over the last couple of years with accusations of Devon "Hannibal" Nicholson saying that he contracted Hepatitis C from Abby during a match between the two in 2007. Courts in the U.S. and Canada have awarded in favor of Nicholson, but as of February 2019, he has yet been able to collect. If you want to learn more about the latest on this situation, please go here.
Special mentions
Bruiser Brody
What would this list be like without Bruiser Brody on it?
His career got cut short due to what most believe was a murder in Puerto Rico in July '88. The ultimate antihero, he was a legend in his own time. A gamechanger still talked about and revered to this day. Several stories of Brody are available for your enjoyment on our site here.
BRUISER BRODY: A Detailed Look at his Murder and Influence on Professional Wrestling
John Tolos
In the words of Dave Meltzer, "John Tolos played the role of an arrogant, good-looking, well-conditioned guy. He talked big. He inflamed the crowd so much; he came off as a real superstar in L.A."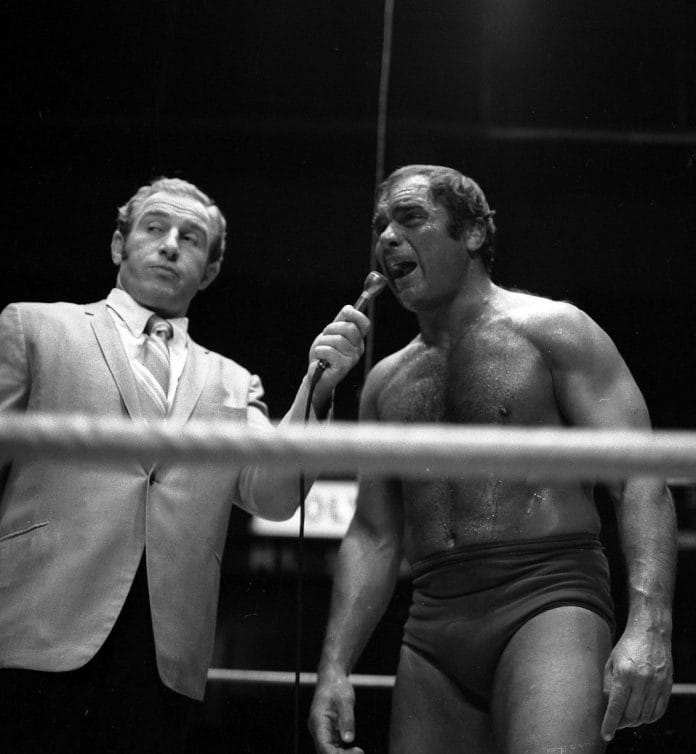 Many remember him for his intense rivalry with Fred Blassie in Los Angeles. The early '70s were his peak years in the sport, a notorious heel most of his career; a whole generation recalls the atrocities committed against other wrestlers and fans alike.
Mongolian Stomper
Mongolian Stomper enraged fans night after night in Stampede Wrestling and later territories across the U.S. and Canada.
Highly regarded by fellow Canadian Bret Hart, Stomper was most successful in Southeastern Championship Wrestling based out of Knoxville, Tennessee. To Jerry Lawler, he was one of his all-time greatest opponents. Stomper wrestled seven world champions during his career.
Kamala
Kamala, a savage headhunter from Uganda, was a sight to behold.
He would come into the ring with a huge African mask, war paint on his face, and a spear in hand, ready to skewer his opponent. He made a huge impact in territories in the south like Continental and Mid-South and later WCCW before going to bigger promotions like WWE. Feuds with Jerry Lawler sold-out venues and brawling outside of the ring with everything used as a weapon, but the kitchen sink was the norm.
Kamala: Disgustingly Low Pay-Offs and Poor Treatment by WWE Agents
Lonnie Mayne
Lonnie Mayne, the glass eating, raw meat chewing original Moondog!
One of the most charismatic and craziest performers wrestling has had. Just like Jos LeDuc, he wants you to know he isn't crazy! You can read all about his memorable but rather short career here. He gave his all to entertain his fans—unique in wrestling's sea of gimmicks.
Lonnie Mayne – The Glass Eating, Raw Meat Chewing Original Moondog!
"Apache" Bull Ramos
Frequent opponent Dutch Savage once said, "Apache" Bull Ramos was the best he ever saw. "Ramos had this thing about him. It was like all you had to do was show up, and he'd get the heat for you. It was such a refreshing thing in the ring where you didn't have to do anything; he did it for you. It was just instantaneous; he had that charisma."
We hope you enjoyed this list! While the twelve wrestlers we feature here are not meant to represent the only wildmen or the wildest men in wrestling, we believe this to be quite the formidable lineup! We tried to mix it up by combining obvious and maybe some lesser obvious choices for your enjoyment. If you didn't see your favorite wrestling wildman in this article, let your voice be heard on our Facebook page or our Twitter! We welcome the feedback.
All quotes from this article are selected from the highly recommended book "The Heels" by Greg Oliver and Steve Johnson unless otherwise noted.
If you enjoyed this piece, be sure not to miss the following articles on our site:
This post may contain affiliate links, which means we may receive a commission if you click a link and purchase something recommended. While clicking these links won't cost you any extra money, they will help us continue to bring you quality content!
---
---
The Pro Wrestling Stories Podcast - your favorite stories, in the form of audio!