In 1984, a homegrown hero rose to vanquish a despised foreign foe. This plot fed America's growing national pride, and the phenomenon known as Hulkamania was soon born. The Iron Sheik was the ideal foil to launch this wrestling storyline for Hulk Hogan into something far bigger. They had the perfect setup to create something unique. But it almost didn't happen!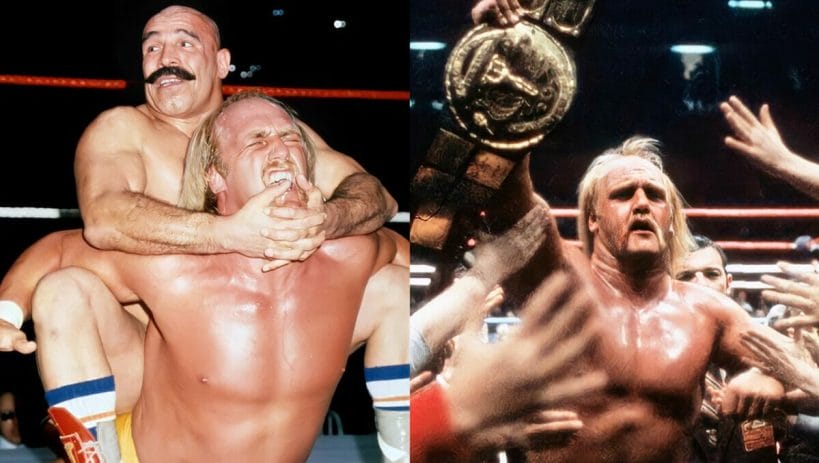 Hulk Hogan, The Iron Sheik, and the Start of Hulkamania
A long line of intimidating foes rose to challenge Hulk Hogan, only to be struck down by the seemingly invincible legend. Then there are a select few rivals, such as "Rowdy" Roddy Piper, who remained constant thorns in the mighty champion's side.
Nevertheless, these antagonists helped to sustain and grow Hulkamania. However, one heel can claim to be the one who kicked-started the phenomenon.
The Iron Sheik was the ideal foil to launch a wrestling storyline into something far bigger.
We have hundreds of great Pro Wrestling Stories, but of course, you can't read them all today. Sign up to receive our five most popular pro wrestling stories, plus subscriber-exclusive content. A special gift from us awaits after signing up!
Why Hulkamania Ran Wild
The '80s were unforgettable, and a huge part of it was the WWF Rock 'n' Wrestling era. Hulkamania was born, and we watched with awe and wonder.
Coming of age in the 1980s, several developments defined the era, including MTV, animated series such as G.I. Joe, Reaganomics, and Hulkamania. The latter was particularly influential for many of us as we believed that evil could always be overcome because Hulk Hogan did just that in the squared circle.
Hulkamania went well beyond professional wrestling. It was even more than a pop culture sensation. It was a force that built upon and contributed to the burgeoning American optimism and patriotism of the 1980s.
It dominated the Golden Era of pro wrestling, defined sports entertainment, reshaped the cultural landscape, and impacted American society indelibly. Yet, Hulkamania was so influential because of how it began.
A new homegrown hero rose to vanquish a despised foreign foe. This plot assuaged Americans' concerns about rising global threats simultaneously; it fed our growing national pride.
It was the perfect setup to create something unique. But it almost didn't happen.
It was a long road to get there. But in the end, the stars aligned to pit two vastly different men together to make history.
Changing Times
In the 1980s, the election of Ronald Reagan to the White House transformed the country, signaling a resurgence in nationalism and a renewed commitment to capitalism. One key tool in fueling growing patriotism was sports.
The "Miracle on Ice," where the underdog United States ice hockey team bested the experienced Soviet squad at the 1980 Winter Olympics in Lake Placid, New York, is a prime example.
The economy was changing, society was changing, and Americans' attitudes were changing. And old-fashioned rasslin' was on the verge of changing as well.
New Era, Old Tactic
Vincent Kennedy McMahon had recently taken ownership of the family business, the World Wrestling Federation (WWF). He was looking to replace the traditional-style world champion, Bob Backlund, with a new kind of champ.
McMahon had his eyes on a rising star to carry the mantle. The question was how to hang the belt on him and get the most pop.
The original idea was to have Backlund turn heel and get beat by Hulk Hogan. However, Backlund balked at the notion because he thought it would be a betrayal of his long-time fans.
Fortunately, McMahon turned to a trick his father, Vincent James McMahon, used more than a decade before – employing a foreign heel as a transitional champion between two babyface title reigns.
Ivan Koloff (Oreal Donald Perras) shook the world when he ended the nearly eight-year reign of then-World Wide Wrestling Federation Champion Bruno Sammartino in 1971.
Having a national icon lose to "The Russian Bear" at the height of tensions with the Soviet Union garnered lots of attention. It also set the stage for Pedro Morales to arise as the new standard-bearer for American values when he defeated Koloff for the belt less than a month later.
The younger McMahon saw an opportunity to revive the tactic with a new bogeyman.
By 1983, Iran and Ayatollah Ruhollah Khomeini and his theocracy had emerged as the latest nemesis to the U.S. The Iran Hostage Crisis, where 52 U.S. diplomats were held hostage for 444 days, was still fresh in the minds of Americans.
One wrestler was perfectly positioned to channel the trepidation caused by the Iranian regime.
How Did it All Sheik Out?
Hossein Khosrow Ali Vaziri had struggled in the pro ranks despite a stellar amateur background. But he found success once he adopted the gimmick that would define his career – The Iron Sheik.
Khosrow was born and raised in Iran and competed on his native Greco-Roman wrestling team.
Yet, unlike his alter ego, he had no hatred for America. In fact, after coming to the states, he served as an assistant coach for the 1972 USA Olympic Greco-Roman team.
He also won the Amateur Athletic Union Greco-Roman wrestling gold medal at 180.5 pounds in 1971.
Khosrow went pro in 1972 after training under Verne Gagne. After performing under various names, he hit upon the gimmick that would make him famous.
The Iron Sheik was a lightning rod for anxious Americans. Sheik generated white-hot heat by constantly mentioning his ties to Tehran and goading the audience with his mantra of "Iran number-one! USA hack-phooey!"
The treacherous Sheik attacked reigning WWF World Champion Bob Backlund while undertaking The Sheik's Persian Club Challenge. The resulting neck injury hindered the champion as he faced the Sheik for the title at Madison Square Garden two days later on December 26th, 1983.
The champ fought valiantly, but when The Iron Sheik trapped him in his signature Camel Clutch, Backlund's manager, Arnold Skaaland, threw in the towel.
The defeat of the all-American Backlund sent shock waves across the country. America cried out for a new hero. And one quickly appeared.
Hulkamania is Born
Terry Bollea, now wrestling as Hulk Hogan, had already burst into pop culture superstardom through his role in 1982's Rocky III and had become the top face in Gagne's American Wrestling Alliance (AWA). But Vince McMahon recognized that was just the tip of the iceberg.
McMahon had big plans for Hogan and the WWF, but the revolution needed to get started on the right foot, which required relying on the proper heel.
Pitting Hogan against The Iron Sheik was far better than Hogan against Backlund, who would still have maintained a loyal fan base despite turning heel.
Bruce Prichard, a current Senior Vice President at WWE, summed it up on his Something to Wrestle With podcast.
"It's a bigger win for Hulk Hogan and Hulkamania; American made to beat the evil Iron Sheik from Iran."
However, there was another roadblock to the epic showdown.
Verne Gagne, Iron Sheik, and the $100,000 offer to break Hulk Hogan's leg
The Iron Sheik's former mentor, Verne Gagne, was unhappy that Hulk Hogan left his promotion. According to Sheik, Gagne offered him $100,000 to break Hogan's leg and take the WWF belt to the AWA.
Fortunately, the Sheik refused to shoot on Hogan and dropped the belt to him on January 23rd, 1984, at Madison Square Garden, without fuss.
Watching a replay of the match on television shortly after was a formidable moment for millions of Hulkamaniacs watching Hogan power out of the Camel Clutch and claim the title. It remains etched in our memory.
"Hulkamania is here!" exclaimed Gorilla Monsoon as the new champ celebrated with the crowd. It was a distinctly American moment.
The rest is history. Hulkamania flourished, partly thanks to the momentum generated by the title victory over the Sheik.
The Iron Sheik's star-making power continued as he burnished the patriotic credentials of opponents such as Sgt. Slaughter, The U.S. Express (Barry Windham and Mike Rotunda), and "Hacksaw" Jim Duggan through intense feuds.
Sheik also helped fuel the Rock 'n' Wrestling connection through his appearance in Cyndi Lauper's "The Goonies' R' Good Enough" video and an animated version of his character featured on Hulk Hogan's Rock 'n' Wrestling program.
No doubt his career would have been even more distinguished if he had not been arrested with Duggan in an infamous incident in 1987 where he was charged with posession (coke). The break in kayfabe due to two supposed rivals being caught together and using illegal substances caused Khosrow to be fired.
However, The Iron Sheik's place in wrestling history is secure. Bruce Prichard called him the greatest foreign heel ever.
Hogan often ended his promos by exclaiming, "Whatcha gonna do when Hulkamania runs wild on you!"
It's interesting to ask how wild Hulkamania would have been if it didn't begin with Hulk Hogan beating the infamous Iron Sheik.
These stories may also interest you:
Can't get enough pro wrestling history in your life? Sign up to receive our five most popular pro wrestling stories, plus subscriber-exclusive content. A special gift from us awaits after signing up!
This post may contain affiliate links, which means we may earn a commission at no extra cost to you. This helps us provide free content for you to enjoy!
---