Professional wrestling managers have been around for a long time. Some of them were legitimately managers for their clients, handling their bookings, travel, and other associated business details. Ed "Strangler" Lewis, a legendary wrestler himself, managed former NWA world champion Lou Thesz for many years and took a percentage of Thesz's earnings as champion. Paul Ellering did the same thing for the Road Warriors. He handled travel and lodging arrangements and even negotiated their contracts.
But wrestling managers of the other kind are a bit better known: The flamboyant personality standing ringside, advising and–occasionally–giving a little bit of underhanded assistance to his client. While managers are out of favor with current WWE programming, some of the best performers in the business haven't been wrestlers: They've been the guys at ringside, getting heat.
---
The Top 10 Best Wrestling Managers of All Time:
This one is easy. Bobby Heenan was the gold standard when it came to wrestling managers.
THE BEST  #1 Bobby 'The Brain' Heenan
With his quick wit and the range to play the sniveling coward or the vicious mastermind, Heenan could do it all from ringside. His promos were top-notch, and when fans watched Heenan at ringside, they saw an artist at work. When his client took a beating, Heenan sold it, too. His head would snap back, blonde hair whipping around. He added to every program in which he was booked. He managed top acts in Dick the Bruiser's WWA, the AWA, and the WWF/E, including AWA world champion Nick Bockwinkel, Andre the Giant, and Ray 'the Crippler' Stevens before moving on to the broadcast booth for WWE and WCW. When it comes to wrestling managers he's the best ever. Period. End of discussion.
Related: Remembering 'The Brain': BOBBY HEENAN
---
# 2  Jim Cornette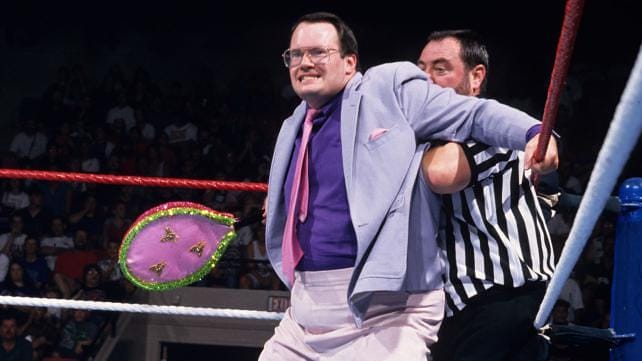 Jim Cornette was born to be a manager. With a gift of gab and a high-pitched voice that he exaggerated to play a stereotypical "mama's boy" in the 1980s territory system, Cornette burst onto the scene in … OK, fine. He didn't burst onto the scene. Instead, wrestling's Louisville Lip sort of snuck up on everyone, debuting in the Memphis territory as understudy to the already established Jimmy Hart. Cornette broke out as a star when he went to Bill Watts' Mid-South territory as the manager for the Midnight Express. From there, the Midnights had a short stint in World Class before moving on to Jim Crockett Promotions, where he would manage his clients to multiple world tag title runs. During the 1990s, Cornette did double duty by running his own promotion, Smoky Mountain Wrestling, while simultaneously being the "American representative" of WWF world champion Yokozuna. He also launched Ohio Valley Wrestling along with "Nightmare" Danny Davis, booked for Ring of Honor, and appeared as an on-air talent for TNA/Impact. There are a lot of newer fans out there who say Jim Cornette has lost touch with what makes the wrestling business work, but he made money for more than 30 years in the wrestling business, and if you listen to his podcast, you understand why.
Related: Unstoppable: The MIDNIGHT EXPRESS Defined Tag Team Greatness
---
#3 Paul Heyman
The 'psycho yuppie' makes the list for a couple of reasons. No. 1, he was an outsider to the business in the 1980s when he first broke in, and that was a notoriously hard thing to do at the time. As a fan trying to break in, Heyman sneaked into a booking meeting with "The American Dream" Dusty Rhodes and charmed his way into sitting under the Dream's learning tree–even if only for a little while. First working as Paul E. Dangerously in the Southern territories, he worked main-event programs with "The Universal Heartthrob" Austin Idol and Tommy "Wildfire" Rich in Memphis and formed the first iteration of the Dangerous Alliance in Continental with Eddie Gilbert. He led the "Original" Midnight Express–Dennis Condrey and Randy Rose–to the AWA world tag team titles and into a hot feud with Cornette's better-known Midnights in Jim Crockett Promotions. In addition to his past success, Heyman now works as the "agent" for WWE Universal champion Brock Lesnar. That's a heck of a pedigree. On Bruce Prichard's podcast, the former Brother Love has said that Paul Heyman is just a sophisticated Jim Cornette.
But Cornette gets placed above Heyman in the formatting of this post on the basis of his victory in their 'Tuxedo match' at the 1989 Great American Bash. (And also because Heenan publicly referred to Cornette as "the greatest manager in the history of wrestling" during an early broadcast of Monday Night Raw).
Related: The ECW Mass Transit Incident
---
#4 The Grand Wizard
Ernie Roth was a kind of low-key badass of wrestling managers, although he would likely have laughed at the term being applied to him. He began working the Detroit territory as Abdullah Farouk, the manager for the original Sheik. While the Sheik had other wrestling managers, like Eddie Creatchman or "SuperMouth" Dave Drason, Roth was defining the character he'd take to the WWF later on. In Detroit, Roth wore wraparound shades, loud jackets, and a fez. In New York, he traded in the fez for a turban and became the Grand Wizard of Wrestling, managing one of the most successful acts in the 1970s–Superstar Billy Graham. And while the Superstar didn't exactly need a mouthpiece, Roth could help the heel champion at ringside. (One of the truisms about the wrestling business: Ringside wrestling managers enable workers to do more types of finishes without having a clean finish, which would get people to come back to see the return bout.) But even though Roth was terrific in his role as the sidekick for Graham, it's real life that places him so high on this list. Outside of wrestling, Ernie Roth was a gay, Jewish man. He named his WWF/E character as a shot at the Ku Klux Klan's 'grand wizard.' That takes some guts.
---
#5 "Classy" Freddie Blassie
Freddie Blassie had a long, illustrious career in the ring as a championship wrestler. He was a perennial champion in the California version of the WWA, as well as making successful tours in the Georgia territory. As one of the first gaijin to regularly tour Japan, Blassie's antics actually caused several fans to have heart attacks. A couple of them were fatal, too. By the time he got to the WWF as a performer, he was well into middle age. He managed the Iron Sheik to a brief world title run. When the Sheik dropped the title to Hulk Hogan, Blassie was there. He led Sheik and Nikolai Volkoff to multiple tag team title reigns, too. Blassie's work was always great, and he dropped new terms into the everyday lexicon of wrestling fans everywhere–stuff like "Pencil-necked geek" and "the fashion plate of professional wrestling." In his retirement, Blassie became sort of an elder statesman to wrestlers and wrestling fans alike. Classy Freddie Blassie was one of a kind.
Related: The Night Bruno Sammartino Saved Freddie Blassie's Life
---
#6 "The Mouth of the South" Jimmy Hart
Even if Jimmy Hart had never set foot in a WWE ring, his work in Memphis ensures he would make the greatest wrestling managers list. Not only was the manager for the first iteration of the Hart Foundation in the WWE (Bret Hart and Jim Neidhart). Hart spent years tormenting (and being tormented by) Jerry "the King" Lawler, even going so far as to hook up with TV star Andy Kaufman. He truly was the "Mouth of the South," cutting great, annoying promos on the babyfaces while extolling the virtues of his proteges. While Jim Cornette was learning the ropes in Memphis, he had to play second fiddle to Hart, because of how established Hart's First Family was. When your managerial work outshines Jim Cornette, you've accomplished something. Hart was also multi-talented, using his musical roots (he was a member of the 1960s rock-and-roll group, the Gentrys) to create entrance music for various wrestlers over the years. It should also be noted that Hart is one of the genuinely nice guys in the business. (If Jimmy hasn't called you 'Poo-Poo' at least once, it's tough to justify that you're actually in the wrestling business.)
Related: "Poor, Matilda." THE BRITISH BULLDOGS – The Locker Room's Cruelest Bullies
---
#7  Bobby Davis
A lot of readers are asking themselves "Who?" at this point, but if you enjoy the antics of wrestling managers in general, Bobby Davis pretty much set the role for everyone who would come after him. The Ohio native wrestled for a few years before a neck injury took him out of the ring, mostly for good. But Davis managed "Nature Boy" Buddy Rogers at the height of Rogers' career as NWA world champion, working with him as he won the title in 1961 and again in 1962. A year later, Davis expanded his stable while working for Vincent J. McMahon (you might have heard of his son, Vincent Kennedy McMahon) for the World Wide Wrestling Federation. Davis managed the biggest stars in the territory, including Johnny Valentine, Dr. Bill Miller, the Grahams and Johnny Barend. His fame was such that when Dick the Bruiser recruited Raymond Heenan as a manager in the Indianapolis-based WWA, he christened him "Bobby" … and Bobby Heenan was born. Bobby Davis was the original.
---
#8 Paul Bearer
William Moody was a hell of a talent. First as Percival Pringle III, in the Mobile, Alabama-based WOW, then in Florida Championship Wrestling, where he managed talent like "Ravishing" Rick Rude to the Southern heavyweight title. Moody cut his teeth in smaller promotions for several years, like the sinking World Class promotion in Dallas, where he managed a stable of top heels against the Von Erichs, and even engaged in a one-on-one feud with the youngest of the Von Erich brothers, Chris. Moody got put into the spot against Chris because he worked so light and so safe that he would naturally take care of the most injury-prone of the Von Erichs. While he was working in these smaller territories, he was also building a reputation as a consummate professional. When the WWE introduced the Undertaker to audiences in 1990, Brother Love was his original manager, but Paul Bearer was soon on the scene, and the pair were inseparable for years. Like Jimmy Hart, William Moody was simply a first-class guy, and beloved by his peers.
Related: THE UNDERTAKER: Revealed! – Your JD Drinking, Locker Room Leading Deadman
---
#9 "Sheik" Adnan Al-Kaissie
After a stellar wrestling career as "Billy White Wolf," a supposedly Native American grappler, Adnan Bin Abdul Kareem Ahmed Alkaissy El Farthie began working as "Sheikh" Adnan Al-Kaissie in Verne Gagne's AWA. Al-Kaissie's gimmick was a sort of an Arab Million Dollar Man. In kayfabe terms, he offered enough money to buy the greatest wrestling talent, securing the services of Ken Patera, whose contract was "sold" by Bobby "the Brain" Heenan, as well as Jerry Blackwell. Al-Kaissie was also a legitimate grappler, having wrestled at Oklahoma State University (the school produced other greats like former NWA world heavyweight champions Jack Brisco and Dick Hutton, Jerry Brisco, Leroy McGuirk). Al-Kaissie was a master at getting heat from the Midwestern fans of the AWA. In 1990, he donned the guise of "General Adnan" in the WWE. He and the Iron Sheik–then going by the name "Colonel Mustafa"–joined forces with an old foe, Sergeant Slaughter, to take the WWE world championship from the Ultimate Warrior. Al-Kaissie headlined SummerSlam 1991 with Slaughter and the Iron Sheik to take on Hulk Hogan and the Warrior. He stayed with the WWE until after the 1992 Royal Rumble.
---
#10 J.J. Dillon
James J. Dillon was a solid if unspectacular, mid-card wrestler who found his niche behind a microphone, shilling for other talent. He was a terrific talker, a guy who could look and sound like a million bucks but still ooze sleaze. Think of Dillon as the precursor to Breaking Bad's Saul Goodman. Dillon managed a stable of wrestlers going after Dusty Rhodes in Florida, and when the American Dream took over the book for Jim Crockett Promotions, he brought in Dillon as one of his main adversaries. Pretty soon, J.J. was managing diverse talents like Tully Blanchard and Buddy Landel. Eventually, Dillon became the manager–sometimes "executive consultant"–for the Four Horsemen, who ran roughshod over Jim Crockett promotions in the mid- to late-1980s. Dillon also had a sharp mind for the business, working in creative for WCW and WWE, and in the late 1990s, he often worked in front of the cameras for WCW as an on-air authority figure. Dillon, now 75, did literally everything in the wrestling business. He's also a member of the WWE Hall of Fame, as a member of the Four Horsemen.
Related: THE FOUR HORSEMEN: "You Can Imitate, but You Can't Duplicate!"
---
And an honorable mention, because his contributions to the wrestling business can't go unnoticed…
Greatest Wrestling Managers – Honorable Mention: Gary Hart
The "Playboy" from Chicago wrestled, managed, booked talent, wrote TV, and did everything else in the business. He was one of the great young stars by the time a plane crashed into Tampa Bay, killing "the King" Bobby Shane and severely injuring Buddy Colt, Mike McCord (better known these days as Austin Idol) and Hart. In Hart's book, he talks about rescuing Colt and Idol, despite brutal injuries to his own body. But better times in the business were ahead for Hart. He spearheaded the push of the Freebirds into World Class, which set the promotion on fire for a while in the early 1980s, managed the Spoiler in Australia, the Great Kabuki, the Great Muta, and worked with Ric Flair and Hiro Matsuda as part of the J-Tex Corporation. Hart is little remembered these days, but his work in front of the camera and behind it should be remembered.
Related: Gary Hart on JERRY JARRETT: "The Bastard Child of an Inbred Hillbilly Family"
---
THE TOP 5 WORST WRESTLING MANAGERS
There are tons of other great wrestling managers out there who deserve a mention, like J.C. Dykes, Ron Wright, Eddie Creatchman, Paul Ellering, Skandor Akbar, Maw Bass, Arnold Skaaland, Miss Elizabeth, and "Sensational" Sherri Martel–but instead, we're gonna turn our attention to the five worst wrestling managers. Some of these workers were great personalities during their own careers who just couldn't do the job of turning their own heat onto their proteges. Others should have never been in that position, to begin with. Here's the list…
#1 "No. 1" Paul Jones
Paul Jones was a draw for a long time in Florida, Georgia, and the Carolinas as "No. 1, Paul Jones." But he may have been the worst manager of all time. A back injury caused his retirement from the ring, and then the promotion put him into a feud with "the Boogie-Woogie Man" Jimmy Valiant. But Jones's 1960s-70s style of promo wasn't a good fit in the mid-80s Crockett boom era. He was one of the regional stars who just couldn't make the jump to a more national product, and every time he was on TV, it was snooze-inducing. Two moments of his managerial stint do stand out, however: When he bought "the Raging Bull" Manny Fernandez's loyalty away from Valiant for $25,000 in cash, and when he helped Pistol Pez Whatley turn on Valiant. But a favorite story about Jones: He wore a sort of paramilitary outfit as the leader of his personal "army." And he grew a mustache. As the weeks went on, Jones began to trim the mustache a little smaller and a little smaller, until he bore an uncanny likeness to Adolf Hitler. Thankfully, the powers behind the scenes at Crockett made him shave once they noticed what Jones was doing.
Related: Territory Star 'No. 1' Paul Jones, Dead at Age 75
---
#2  "The Genius" Lanny Poffo
Lanny Poffo was a better worker than his brother, "The Macho Man," Randy Savage. That's a hot take, but it's true. Especially early on, Lanny could do things in the ring that Randy couldn't or wouldn't, and it made him a draw for promotions in the southeastern United States. But he never had the gimmick his brother had–and he'd likely peaked as a worker a few years prior to being signed by the WWE. Randy Savage, on the other hand,
was a wild man
, a better interview than Poffo, and he 
was
good in the ring, too. He also lived his gimmick. All of those are reasons that Savage rose higher than Poffo in the wrestling business. On a national stage, Lanny never rose above the mid-card. Usually, wrestling managers are associated with top acts, so when he started managing the Beverly Brothers, it was obvious they had a ceiling and were never meant for success. Because other wrestlers saw Poffo's ceiling was limited, they felt they would be limited by association with him, and no one wanted that.
Related: Crazy Man RANDY SAVAGE Ruins a Cowboy's Feel-Good Moment at a Waffle House in Nashville
---
#3 Mr. Fuji
As a wrestling manager, Mr. Fuji was a great ribber. That's the best thing that can be said about him. Once he retired from the ring and became even less mobile than he had been as a wrestler, Fuji wasn't very entertaining in front of the TV cameras. His best stuff was done in the back. He'd put shoe polish on pay phone receivers. If one of the boys fell asleep, Fuji might shave his eyebrows. His pranks knew no bounds. But the evil Japanese character he portrayed on TV felt old and dull during the 1980s when most fans didn't care about Japan; they were scared of the USSR. Fuji was essentially the WWE's answer to Tojo Yamamoto, who did the gimmick better and longer. The WWE kept Fuji around and kept him associated with top acts like Demolition and Yokozuna, but Fuji's best work was backstage or on airplanes, where he was ribbing the boys. At the same time, it needs to be recognized that he managed WWE tag team champions as well as Yokozuna when the big Samoan was WWE world champion, so take that for what it's worth.
Related: MR. FUJI: The Devious, Legendary Ribber
---
#4 Lou Albano
There are, apparently, people out there who liked Lou Albano's gimmick. And there's the fact that he led more tag teams to WWE gold than anyone else. But there's also the nonsensical promos, the weird antics at ringside, and his drunken hobo look. All of those work against him. If it weren't for Cyndi Lauper putting him into the "Girls Just Wanna Have Fun" video, it's doubtful Albano would have kept his spot in the image-conscious 1980s WWE. He was also, according to Freddie Blassie, an immense pain in the rear to deal with backstage and on the road. Still, Albano was all over WWE's early-1980s programming because of the Rock-and-Wrestling Connection, but he's largely forgotten these days. That's because his work doesn't hold up when compared to the other talents that surrounded him. Part of that isn't his fault since he was surrounded by a great crop of talent.
Related: On the Road with 'Captain' Lou Albano
---
#5 "The Golden Greek" John Tolos
This one hurts. John Tolos was a star. He looked great, he was a great promo, and he was a great worker. Adjusted for inflation, he's one of the top draws of all time. He headlined with his brother to take the U.S. tag team titles (precursors to the WWE world tag team titles) away from Gorilla Monsoon and Killer Kowalski on the east coast, and then later on the west coast, he ran a long, hot, bloody feud with Freddie Blassie for the WWA Americas title in Los Angeles. He drew money wherever he went, and the man could talk people into the arena. But he came into the WWE as the ill-advised character of the "Coach" for Mr. Perfect and the Beverly Brothers, and that managerial run was an abject failure. Despite the fact that he went on to manage in the Herb Abrams version of the UWF, Tolos's stint as a manager was the only real failure of a lifelong career in professional wrestling.
---
Editor's update: Rick Miller emailed to say: "You forgot Arnold Skaaland in your top and additional wrestling managers list. A real oversight within days of Bruno's death."
That's not a question, really, but I want to take up the subject since Arnold Skaaland as a wrestling manager is such an oddity in the wrestling business. A respected wrestler who once faced Pat O'Connor and Buddy Rogers in singles matches for the NWA world title, Skaaland was also a partner in the Capitol Wrestling Corporation, the precursor to today's WWE. On-air, he was the babyface manager of Bruno Sammartino and Bob Backlund when each man was WWWF champion. Wait, babyface wrestling managers??? Yep. He famously threw in the towel on Backlund when the then-champ refused to submit to the Iron Sheik's camel clutch. The video is shaky, but take a look below. The important part starts at about 14 minutes in:
But Skaaland's chief duties were behind the scenes, which is one of the main reasons he wasn't included on the list. He acted as the agent for Andre the Giant, and he often acted as the go-between for Vince Sr. and Sammartino, since the two had lingering heat from when McMahon essentially blackballed Bruno from wrestling in the northeast. Skaaland is a WWE Hall-of-Famer, but he was far more important behind the scenes than he was as an on-air manager. Skaaland passed away in 2007 at the age of 82. My favorite Arnold Skaaland moment is when Bob Backlund finally got revenge on him for throwing in the towel against Sheiky-baby:
---
Brian Solomon on Facebook had some comments about this piece, too: "Wild Red Berry was the original template of wrestling managers, and is nowhere on this list. And Albano on the worst list? Please …"
A Wild Red Berry sighting! I had to respond to this because Brian's complaint has some merit to it … and anyone who can bring up Wild Red Berry is my kind of fan. We can either look at it one of two ways: I looked at Berry's 30-year career as an active wrestler, including his nine (NINE!) runs as NWA world lightweight champion and decided that overshadowed his also terrific run as a manager. (He's the guy who worked with the original Fabulous Kangaroos, Killer Kowalski, and Gorilla Monsoon. In fact, if my memory serves, it was Berry who introduced Gorilla to the public, announcing that he'd found Monsoon bathing naked in a stream in Manchuria.) Or, here's option No. 2: You could think I just completely forgot to include him.
It's probably safer to bet on the second one, Brian.
I'll add this, though: I think Bobby Davis is more the prototypical manager as the position came to be considered. I don't want to diminish Berry's memory in any way, but I do believe he was more the archetype of the vicious "little" heel–Berry was billed generously at 5'8″–working against larger babyfaces. Berry and Davis were contemporaries as wrestling managers, I believe, though Davis was years younger than Berry, having been forced from active competition due to an injury.
My favorite Wild Red Berry piece of trivia: He has a type of flowering cactus named after him. How cool is that?
As for Albano … Boy, have I heard about placing him on the "Worst" list! But I stand by my ranking. I would argue that Albano was an important manager rather than a good one. Maybe that's too fine a distinction to make online, but it's one I'm gonna make anyway. And hey, he was enough of a personality that I felt like I couldn't leave him off the list entirely.