Long before Hulk Hogan and Andre the Giant changed the wrestling landscape forever on March 29, 1987, at WrestleMania III, the two behemoths were doing battle in the United States and Japan. While WWE's revisionist history would like for you to think their iconic showdown at the Pontiac Silverdome in front of 93,173* screaming fans (brother) was a unique attraction, this was certainly not the case. And outside of the ring, Andre wasn't making it easy for Hogan.
The Legendary Feud of Hulk Hogan and Andre the Giant
In 1980 in the then-World Wrestling Federation, in reversed roles to what fans would witness seven years later, a face Andre the Giant faced a heel Hulk Hogan 16 times throughout the year with Andre coming up triumphant in each of the matches.
Throughout 1982 and 1983, while both were working in New Japan Pro Wrestling, the two had several additional matches, however, with Andre as the heel and Hogan as a face.
In his interview on The Voice vs. (H/T: 'Wrestling's Glory Days' Facebook page), Hogan opened up about this time in his career and the epic battles he would have with Andre in and out of the ring.
"Andre the Giant beat me up every day for the first eight years. I was so nervous I used to puke on the way to the building.
"Then, after eight years, we became friends.
"He even started to like me…"
---
Fun fact: Hulk Hogan slammed Andre the Giant not once but twice in a WWF ring before "The slam heard 'round the world" —  the first time at Shea Stadium during Showdown at Shea August 9, 1980, and a month later in Hamburg, Pennsylvania.
---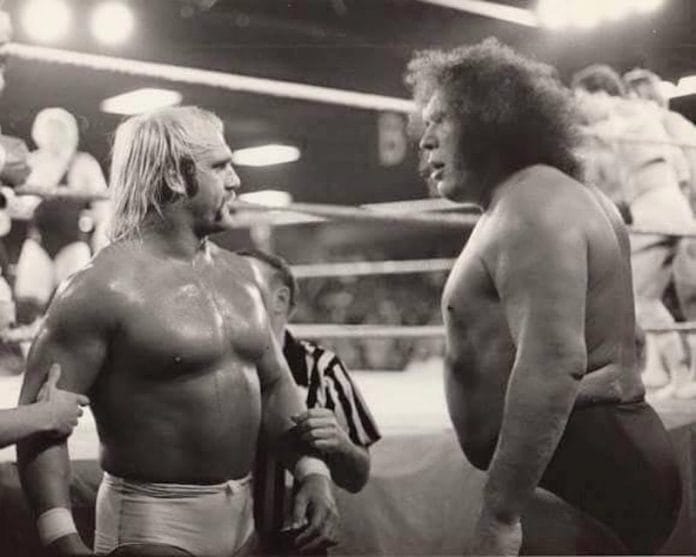 Hulk Hogan continued, "For those first few years of knowing Andre, I was just another kid who didn't understand this business. When I finally smartened up and started having respect for this business, from that point on, I started to understand what Andre was all about.
"He loved this business. And he protected it.
"You hear people say, 'Oh, he was arrogant – he did this to me or did that' – but a lot of people don't understand. There was never a situation where he could ever be comfortable. He was a seven-foot-four giant. There was never a chair, a knife, a fork, a bed…
"He lived in a really cruel world.
"If he walked ahead of me at the airport, I heard people say horrible things and make fun of him.
"Once you got to know him, he was a very gracious person with a kind heart. But…he didn't put up with any B.S."
Hulk Hogan and Andre the Giant – Behind The Scenes at WrestleMania III
"At WrestleMania III, everybody wanted me to slam him.
"Andre had come off huge back surgery, and he was in a lot of pain.
"'Andre,' I said, 'Dude…your back's bad…are we gonna do the slam?
"He goes, 'I DON'T KNOW.'
"I said, 'What do you mean..'
"'DON'T WORRY, BOSS. DON'T WORRY…I'LL TELL YOU…'
"Vince McMahon was very confident that he could get Andre to do what he wanted. He came to my hotel room with a yellow legal pad, and he and I planned out the whole match, which I'd never, never done before – [because] it'd be disrespectful to Andre. I mean, I'd have gotten killed [if he knew] because Andre always called the matches.
"So I laid it out to Vince, I said, 'Please…don't tell him.. he'll break my legs.'
"I'd seen Andre pissed, you know?
"So I wrote the slam in there, thinking it would happen early in the match.
"On the day of WrestleMania III, I sat in the dressing room with Andre the whole time. I never really did usually because he drank so much. But for this match, he said, 'YOU SIT HERE!'
"So I sat next to him…for 8 or 9 hours because we had to be there so early in the day.
"He drank two quarts of Crown Royal – which was nothing for him – but he wanted me to drink with him. The stuff makes me sick, even to smell it – but I didn't want to do anything to get him hot, so I figured if I had to sit there and drink with him, I'd do the best I could.
"So I cheated – whenever he wasn't not looking, I got rid of it!
"Even [just before] going to the ring, I asked him, 'Andre, what do you want to do out there? Who's going to win? Who's going to lose..?
"'DON'T WORRY, BOSS…'
"I had no idea what was really going to happen.
"When I tried to pick him up in the beginning as I'd planned – but he sat down on me, and I fell backward with him, so I kind of thought, 'Forget about it…'
"He had a great instinct. He would listen with his heart.
"About three-quarters of the way through the match, the place is rumbling – a wave of people cheering for Hogan! Hogan! – all of a sudden, out of nowhere: 'SLAAAM!'
"I went, 'What-?'
"He yelled at me again, 'SLAAAM!'
"He came towards me, and I got underneath him and – thank god – I got him. I tore my back, I tore my bicep, tore my delt in three places, but I turned him over…"
Watch Hulk Hogan Bodyslam Andre the Giant at WrestleMania III:
"Andre didn't have to do that.
"He did that for the wrestling business. Andre knew it was time to pass the torch…"
Hulk Hogan was a recent guest on the Steve Austin Show, where he opened up further about his relationship with Andre. You can listen to this to this recommended interview in full here.
Role Reversal! Watch Hulk Hogan Working as a Heel Against a Face Andre the Giant in 1980:
*There have been numerous claims since WrestleMania III that the quoted attendance figure of 93,173, which established a world record attendance for an indoor event, was false and that the real attendance figure was closer to around 78,000.
If you enjoyed this piece, be sure not to miss the following articles on our site:
---
---
The Pro Wrestling Stories Podcast - your favorite stories, in the form of audio!