For someone who has put their wife in a comatose state, beaten his children within an inch of their life, and even started a murder cult inside of the ring (all in storyline, of course!), the most powerful man in wrestling, Vince McMahon, has been famously private outside of the squared circle. As these talk show experiences show, his personality doesn't tend to gel well outside of the WWE universe!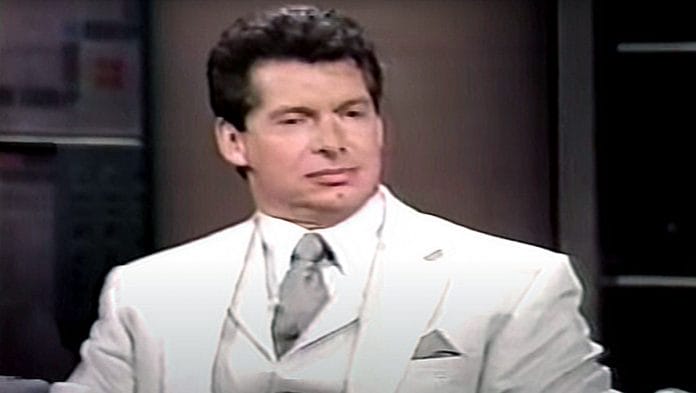 The Peculiar Case of Vince McMahon
Vince McMahon doesn't operate on the same wavelength as most of us. The incredibly hard-working but controlling boss of WWE seems to have a different way of viewing the universe, which allows him to think out of the box while frustrating fans with certain creative choices. Some call him a genius while others call him insane — there is every chance he may be a little bit of both. This doesn't tend to bode well for him outside of the world of WWE.
Vince has made appearances on television throughout the years, defending various allegations and scandals on the news such as his appearance on The Phil Donahue Show, or promoting upcoming events with appearances on Howard Stern and Off The Record.
Of course, now that McMahon owns his own network, the last in-depth discussion we had with him was on the Steve Austin Podcast, a production he had ownership over.
Watch Vince McMahon Interviewed by Steve Austin:
Even when Undertaker finally lifted the curtain on his own historic career in the tell-all The Last Ride documentary series in early 2020, it was Vince McMahon who at one point asked the cameras to stop rolling.
That's why it's so interesting to see him out of his own element on formats like late night talk shows.
Today, we take a look at two interviews, ten years apart, one with the "Voice Of The WWF" Vince McMahon on David Letterman in 1989, and the other with "Mr. McMahon" Vince on Conan O'Brien in 1999.
Vince McMahon Late Night Talk Show Appearances on David Letterman
Wrestlers are no strangers to David Letterman's show. Andre The Giant, Bobby Heenan, and of course, Jerry Lawler and Andy Kauffman are just some of the notable names who have sat opposite the famous desk. Even Vince himself appeared in a segment in his commentator persona, reporting from a hospital waiting to welcome the new "Late Night Baby." The segment was fun, with Vince playing the deadpan straight man whilst Letterman and his audience teased him from the studio.
Watch Vince McMahon Welcome the First "Official" Late Night Baby on David Letterman in 1985:
It was McMahon's second time on the show that was a little more awkward.
Vince appeared as an actual guest and as the owner of the WWF, a title Vince never really wanted to be acknowledged until a little later on.
Things got off on with a rocky start from the get-go, with Letterman asking the audience, "Is it Federation or Foundation?"
Then, as Vince made his way out, Dave commented on his physique, joking about how he must have got weights for Christmas, with Vince retorting, "Sure did, and you didn't."
That first sentence out of Vince's mouth was met with an "OOOOH!" from the audience. Keep in mind, this wasn't baddie Mr. McMahon. He was just serving as an ambassador for his company on this visit, and already the crowd was against him.
Vince was quizzed on all sorts of topics — such as how much money he earns — but he wasn't very open about his answers. Dave asked what kind of person becomes a wrestler, who decides what that wrestler will be, and other interesting but respectful questions. Everything was going on friendly enough, but Vince, perhaps feeling a little protective, only really replied with short one-sentence responses until finally, Dave asked, "Am I talking more than you, Vince?" which was met with a big laugh from the crowd.
David Letterman then proceeded to feed Vince questions to help plug his upcoming ventures, such as the movie No Holds Barred and the upcoming SummerSlam pay-per-view. Dave asked what happened previously in terms of the current wrestling story, then asked, "What will happen in the next one, do we know?"
The crowd laughs into applause. Now, if you're reading this, chances are you're a big pro wrestling fan, and as such, you're probably rolling your eyes at the general public's response. The curtain of kayfabe may not have been fully lifted like it is today, but at this point, we had warriors from Parts Unknown and strutting and cutting barbers battling prison guards and million-dollar men.
That doesn't stop people from slapping their hands together like idiotic walruses when someone hints that wrestling results may be pre-determined as if they somehow got one up on the snake oil selling charlatan!
That pretty much wraps up the interview, which you can watch in its entirety below.
Watch Vince McMahon on David Letterman in 1989:
Vince McMahon and His 1999 Late Night Talk Show Appearance on Conan O'Brien
Fast forward ten years, and it's a new era with a new attitude. WWF has never been bigger, and the American people seemed to have shaken off their wrestling snobbery so they can join in on the beer-swilling, eyebrow-raising, crotch chopping fun.
It also helps that Vince McMahon was fully out as the owner, and his villainous Mr. McMahon persona was at its peak feuding with Stone Cold Steve Austin.
From the get-go, Conan O'Brien tells Vince that he has been watching for a while and that he loves his look of shock and horror whenever he hears Stone Cold's glass shatter.
Immediately this set up a completely different tone. Conan was respectful enough to know wrestlers and character names, and although he was "teasing" Vince, he was getting the show and the product over. After watching previous interviews in research for this article, it's actually kind of nice to see Vince treated with a little respect rather than looked down upon as some crooked ringmaster.
Vince looked a lot more comfortable as they laughed at the amount of Steve Austin merchandise compare to Vince's one tiny action figure. Even McMahon's jock-like humor is good-natured, suggesting Conan should manage Andy Richter, even pulling out a T-shirt for his potential gimmick, "Cheeks!"
Then things went a little south. When asked how Vince felt about his rival Ted Turner, he didn't pull back any punches.
"Mom said if you can't say anything nice, then don't say anything at all. All I'll say about Ted is he's a son of a bitch!"
A couple of audience members cheered and went for applause but quickly quietened down when they realized the rest was groaning. That didn't stop Vince McMahon from doubling down when Conan jokingly told him to say how he really feels.
"I can't stand the son of a bitch!"
Conan joked that Ted Turner also has an action figure. Vince, perhaps misreading the crowd (doesn't that seem familiar?), continued with his burial of WCW's head honcho.
"I can't imagine! He takes Lithium all day long!"
A loud chorus of ohh's and groans followed, and just like that, the interview wrapped up with jokes about lawsuits and one final plug for the upcoming King of the Ring pay-per-view.
Watch Vince McMahon on Conan O'Brien:
Conan was clearly a better appearance for Vince McMahon. Whether it was a more experienced and relaxed McMahon, wrestling becoming more socially acceptable, a more respectful host, or all of the above, it showed how much can change in the grappling world in just one decade.
Love him or hate him, Vince has been one of the only true constants in the business, even when he doesn't know when to stop calling someone a son of a bitch!
If you enjoyed this piece, be sure not to miss the following articles on our site:
---