By following his dream, "Hurricane" JJ Maguire rubbed elbows with some of the most influential names in music and wrestling. Pick a WWF or WCW wrestler from the '80s through to the '90s, and there's a good chance that JJ created their theme music along with his friend, Jimmy Hart. Credited with over 100 wrestler entrance theme songs, JJ Maguire was crucial in your favorite superstars' overall identity. From beach house recording sessions with Hulk Hogan to forming a very personal relationship with Vince McMahon, here is his remarkably memorable story.
---
"God gave me a talent, and I took it to the greatest show on Earth. Who knew wrestling was such a powerful force? I did." – JJ Maguire
---
JJ Maguire, The Man Behind Your Favorite Wrestling Music
John Maguire, known as "Hurricane" JJ Maguire, has fond childhood memories of watching wrestling on Saturdays from WBIR TV in Knoxville, Tennessee. This was a mere two and a half hours from Somerset, Kentucky, and Lake Cumberland, where he grew up. "I'd get up early, watch The Three Stooges, Roy Rogers, and sit there eating my cereal," JJ opens up to me as we catch up by phone one, especially sunny afternoon in July. "Wrestling came on about 11 o'clock during lunch, and I'd root for the good guys and holler at the bad guys. I enjoyed it and never missed it, but had no clue my future would be involved in the wrestling industry years later." He remembers when Randy Savage debuted and the eclectic array of talent that Angelo Poffo's ICW showcased week to week.
Born in 1953, Maguire's love for wrestling seems to be a family trait that goes back to his grandfather, Judge Walter Flippin, a Harvard graduate and circuit judge in the earlier part of the 20th century. "Believe it or not, he was a big wrestling fan. He loved it!" JJ remembers fondly.
A story told to him makes him laugh to this day, and it's one that he loves sharing with anybody that he can. It revolves around his highly educated and respected grandfather and his wife, who continuously pestered him while he tried to watch his favorite wrestling program.
"That rasslin' ain't real!" she would proclaim. "The rope that's supposedly choking him ain't even around his neck!"
To this, Judge Flippin would answer indignantly, "Hush, woman. Don't interrupt me while I'm watching my rasslin'!"
How an Unforeseen Encounter Between the Grandfather of JJ Maguire and Ed "Strangler" Lewis Changed Wrestling Forever
Dr. Maguire, JJ Maguire's grandfather on his father's side, has one of the most incredible stories involving a legendary grappler in the grunt and groans game. Ed "Strangler" Lewis' career and life changed thanks to some luck and JJ's grandfather's preparedness.
According to the book My Life in Heaven Town, written by John Cosper, in 1929, Ed "Strangler" Lewis was one of the most well-known celebrities rivaled only by Houdini. He was part of the Gold Dust Trio, comprised of manager Billy Sandow and booker Joe "Toots" Mondt. Lewis was going to wrestle at the opera house in Lexington, Kentucky, a venue partly owned by Dr. Maguire. JJ Maguire's father, John D. Maguire Jr., was 19 at the time and served as the eyewitness to the events.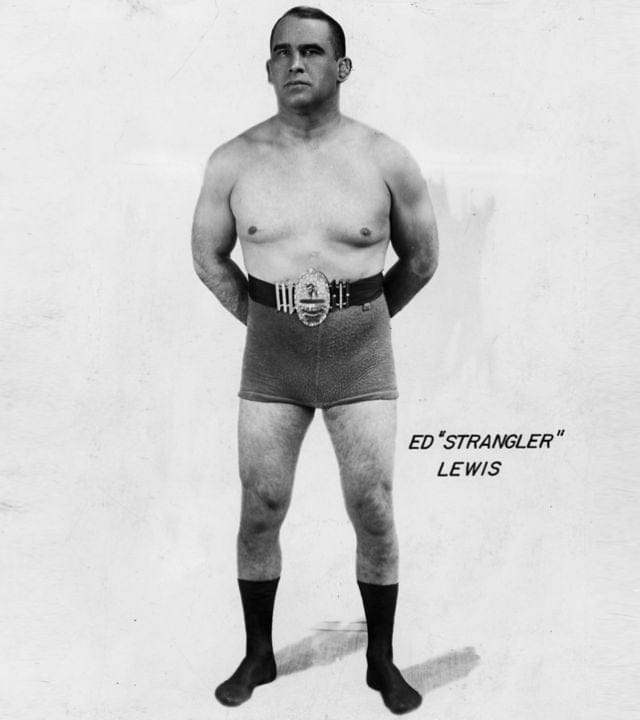 Lewis headlined the night, and as was customary, was chewing gum. As he began to make his way to the ring, an overzealous fan suddenly slapped him hard on his back, ironically causing "Strangler" to start gasping for air. The gum lodged in his esophagus and caused the wrestler to turn a deathly shade of blue. Someone got on the megaphone clamoring for help, to which Dr. Maguire stepped over the rope — there were no barrier walls in those days — and approached Lewis. Fortunately, Dr. Maguire got the wrestler to cough up the gum, effectively saving his life.
Back in the dressing room, Ed "Strangler" Lewis thanked JJ Maguire's grandfather for saving his life and offered compensation, but the former WW1 field surgeon refused many enticing rewards of substantial monetary value. Instead, he accepted lifetime ringside seats for himself and his son whenever Lewis was in town.
A Foray Into Wrestling Music
JJ Maguire acquired an affinity for music at an early age and became proficient in various instruments. He pursued his dream by playing in local bands, which later led him to become a member of The Gentrys, where future wrestling manager Jimmy Hart served as vocalist. While in Florida, Jimmy Hart convinced JJ Maguire to go to a wrestling show on a Sunday, which was their only day off from the band's busy schedule. He knew one of the wrestlers, which turned out to be none other than the inspiring Sputnik Monroe. "This guy was super popular with the colored people. They loved and surrounded him wherever he went," recalls JJ Maguire. "Jimmy [Hart] never took his eyes off the ring; he was absorbing and dissecting everything. I'd talk to him, and he'd barely acknowledge me! Little did we know that we were both looking at our future."
What a Rush (Legion of Doom), Sexy Boy (Shawn Michaels), It's All About The Money (The Million Dollar Man Ted Dibiase), Do The Bird (Koko B. Ware), and Hitman (Bret Hart) are all written by JJ Maguire and his friend Jimmy Hart. These are only a handful of theme songs they collaborated on.
---
Did you know? Years before the WWF had music or records of any kind, JJ Maguire helped Jerry "The King" Lawler become the first singing wrestler. He rearranged a Neil Sedaka song called Breaking Up is Hard to Do and added a synthesizer effect to give it a disco flair, trying to capitalize on the popular disco beat.
---
Getting Involved with the WWF and their Rock n Wrestling Movement in the '80s
The WWF's first experiment interweaving their wrestling stars with the music world brought forth 1985's The Wrestling Album. It was a good start, but Vince McMahon wanted to build on this success by launching a second one with more original music and fewer cover songs. This shift to creating their music came about in part after Vince McMahon realized how expensive royalties for songs like Eye of The Tiger by Survivor and Another One Bites The Dust by Queen could be.
According to JJ Maguire, Vince McMahon told Jimmy Hart, "Why don't you and your partner Maguire come up with some original stuff for the second wrestling album."
"So we had a chance," explains Maguire. "There wasn't any guarantee. Vince just wanted us to submit some stuff. So I took a Tascam Porta One four-track recorder, which was such a revolutionary piece of equipment at the time that you could just throw it in a briefcase." He recalls that on the plane, the flight attendants wanted JJ Maguire to show them how this state-of-the-art machine worked.
Once in Cleveland, Ohio, he and Jimmy got to work. Along with the four-track recorder, they rented a keyboard and a drum machine from a local music store. "Then we pretty much came up with the first three songs on the second album, which was Demolition's, where Jimmy did the lyrics, then we did Cool, Cocky, Bad (Honky Tonk Man), and the song made for Jimmy called Crank It Up. So we had three songs on the Piledriver: The Wrestling Album II. That's where it all began for us."
The theme for Demolition was one of the first and most recognizable songs created by JJ Maguire and Jimmy Hart
JJ Maguire says that he went to most events, but sometimes Jimmy came up to him on short notice telling him that a wrestler needed a theme song within the next couple of days. Maguire then worked on the song and played it for Jimmy over the phone. Any suggestions on the melody or lyrics were taken into consideration or added.
"Sometimes I would drive or fly to wherever the wrestler that needed a theme was, and I would look at him and his gimmick, the outfit, get an idea what his banter was, and moves. I would come up with a song that fits that character. I didn't just write random songs saying, 'This'll work for somebody.' Each song was custom fit for the particular talent. I'd sometimes do a quick outline at the matches, and if Vince liked the concept, I'd tell him when I could have the complete song done. It wasn't just something pulled out of thin air."
JJ Maguire had to adapt as better technology became available, but it all started with a four-track cassette machine and a lot of creativity. "Many times, I'd set up my instruments and equipment at the matches. Some songs were completed on the spot, others I hammered out at my home studio. But at the beginning, the themes were just done on that four-track cassette machine, and then it went to reel-to-reel stuff, then twelve-tracks which did studio quality work without having to go to a studio, and finally CDs."
The dynamic was that JJ Maguire wrote the music, played the instruments, and arranged the song. Jimmy Hart often did vocals and worked on the lyrics, but his gift was that he had "a golden ear" and understood wrestling's creative side.
"Jimmy Hart is a genius and my best friend. I love him to death. We love each other as brothers. We've been through it all and traveled the world together. He knows what he hears and trusted me to come up with the musical idioms because I had formal classical music training and had played in bands." He continues, "Jimmy sang in The Gentrys, but it's a good thing he didn't learn to play any instruments because he would've probably been as formidable as me or more! We kind of had ESP and could look at each other and say, 'Ok!' and that's a great thing."
The Rockers Wrestling Music, "Rock Out," Became Faster After a Suggestion From Jimmy Hart to JJ Maguire
Jimmy Hart's suggestions often helped the song come together. Such was the case with The Rockers' theme Rock Out, where he suggested making it faster.
"Hey, Maguire," Jimmy would say. "Do you see how fast they go to the ring?"
"Yeah, you can't even see them," answered JJ Maguire. "They're like a blur!"
"So I took it from normal speed to doubling it," says JJ Maguire. "That suggestion made the song, and that's kind of how we work. He gives me leeway to come up with the music, construct it and if there's lyrics, he'll write them and make general suggestions a producer does. We both produced the songs in that way, but I wrote the music and played all the instruments."
JJ Maguire takes pride in being a musician that isn't bull-headed and would openly listen to input from different people when creating these memorable themes. "I listened to any of the suggestions the talent, Vince McMahon, or Jimmy made. I'm the type of person who will listen and come up with something that suits the situation."
JJ Maguire on His Relationship With Vince McMahon
While a staunch supporter of JJ Maguire's work, Vince McMahon was less hands-on than many people may assume and, according to JJ Maguire, never interfered negatively in the creative process. "He gave me leeway to do it my way, but I constructed the wrestling music to fit those characters. Vince never turned down a single theme we came up with; he loved everything we had done. He'd say, 'Sounds great!', but he was busy going area to area, talking with everybody, and checking on everybody running the whole thing. We had a great relationship with Vince, and it was never uptight or hateful. I read many things that supposedly go on, you hear many stories, but we didn't have any encounters like that. All our meetings were very personable, profitable, and exciting."
He remembers when the WWF was a growing company but where you could still have a very personal relationship with Vince McMahon, the man he describes as the Wizard of Oz (the ruler behind the curtain). During many matches, he'd stand next to him and comment on what he saw. He remembers a unique moment where Vince was intrigued at JJ Maguire's prediction of a future women's division and women wrestlers being headliners. They had just finished watching a very entertaining match between The Glamour Girls (Judy Martin and Leilani Kai) managed by Jimmy Hart versus The Jumping Bomb Angels.
He believes that when it comes to wrestling's inner workings, very few who had never been wrestlers were allowed as much access as himself, Jimmy Hart, and Andy Kaufman. "We were the only outsiders that I know of, that were allowed into the very core of kayfabe and wrestling."
He was right behind the curtains when Randy Savage wanted his promos to be perfect and remembers that Savage was willing to do as many takes needed to make them unforgettable. He describes him as a "dyed-in-the-wool wrestler 100% entrenched in his profession."
Maguire recalls Mr. T determined to leave an arena while at a big event, with Hulk Hogan chasing him down before he got inside a limo. Hogan persuaded Mr. T to do the show, reminding him that millions of people were watching and that if he left, their career could crumble.
When it comes to JJ Maguire's theme songs, one of the unique aspects is that in many of them, the wrestlers are doing the vocals, and he believes that this helped the songs resonate with the fans.
"The original voice in Sexy Boy is Sherri Martel. They had problems and a disagreement with her, where she ultimately left the company, and then we had Shawn [Michaels] sing. Jimmy would sing it, and Shawn followed along. Later, Jimmy's voice was taken out, and in the final version, you can only hear Shawn's voice."
Maguire admits, "Yeah, Shawn wasn't Robert Goulet or whatever, but the beauty in it was that the performer sang his song like Ted DiBiase and Honky Tonk Man. These guys were doing their themes, and this left an impression with the audience."
Listen to the original version of Shawn Michaels' wrestling music, "Sexy Boy," with Sherri Martel singing:
Throughout the years, Sexy Boy has been sung and parodied by different wrestlers and people outside of the industry. There is a version where Vince McMahon is fervently belting out the vocals, but JJ Maguire says that he is unaware of that version and that he certainly didn't work on it. In one instance, JJ was floored when told that William Shatner had sung parts of Sexy Boy on TV. "I couldn't believe it," exclaimed an amused JJ Maguire. "Captain Kirk is singing Sexy Boy; I guess I had finally made it! I was blown away by that!"
Hear William Shatner Sing "Sexy Boy"
As needed, JJ Maguire and Jimmy Hart brought in other talents to complement and add a special touch to the songs. Such was the case with a gospel singer from the Beale Street Choir (out of Memphis, Tennessee) whose distinctive voice is in Common Man Boogie (Dusty Rhodes) and in It's All About The Money (Million Dollar Man Ted Dibiase).
Hulk Hogan and The Wrestling Boot Band
In 1995, JJ Maguire and Jimmy Hart were fortunate to be approached by Hulk Hogan to become the main collaborators in a release entitled Hulk Rules! by Hulk Hogan and the Wrestling Boot Band.
While JJ Maguire and Jimmy worked on a music project of their own, Hulk Hogan showed up to discuss something significant. Both wondered what the Hulkster had in mind with JJ Maguire thinking that maybe he was in trouble for something!
When Hogan arrived, he warmly said hello to JJ Maguire and "Jimmy Jam," as he would often call Hart. They all knew each other from previous collaborations, so it felt more like a meeting amongst long-time friends.
"I had my keyboard set up, my drum machine, and some speakers," recalls JJ Maguire. "Hulk adjusted his headband and sat across from us. He then looked straight into our eyes and said, 'Jimmy Hart, Jimmy Maguire, I want to make some music.'"
Jimmy Hart replied, "Well, Hulkster, what have you got in mind?"
"Well, before it's over and all said and done with, I started in music," explained Hogan. "I want to do some kind of album. But I want something that can raise money for charity but entertain people too. I want an album with a bunch of different kinds of music on it but remain original."
So Jimmy and JJ looked at each other and answered, "Sure, Hulk, we can do that!"
Hogan was euphoric and exuded the positive energy that characterizes him. "Well, I got my beach house down here, and Brutus [Beefcake] is coming. We'll be there for about a week. So Maguire, bring your portable rig over and see what you and Jimmy can come up with and see what we can do!"
JJ set the scene for what awaited him at Hogan's beach house. "At the beach house, Hogan and Brutus Beefcake fixed up tuna fish sandwiches, ate mac and cheese all day, and downed protein powders, as big boy wrestlers do. Then we started hammering it out."
Hulk Hogan wanted JJ Maguire to first come up with something for "Jimmy Jam" to later "get in the groove."
They came up with a beach type song, like something out of Jimmy Buffet's repertoire. JJ Maguire recalls almost being blessed with divine power when he came up with the sweet sounds of the song titled Wrestling Boot Traveling Band.
Hulk Hogan raps in I Want To Be a Hulkamaniac. No, really, he does. Have a listen:
"It was like Jesus coming down from heaven, touching you on the head and giving you the power. I instantly put my hands down and wrote the first couple of lines and then the chords. Jimmy wrote the rest.
"Once again, they gave me free rein to come up with the music idiom, but I did it in conjunction with what they wanted, what Hulk dictated. If you listen to the album, there is every kind of music genre on there, not just one type of sound, and I played 98% of everything on that album."
JJ Maguire could not attend one session because he felt ill (overdid the tuna fish and mac and cheese, perhaps). So they brought in a singer to help with the vocals for American Made with the proviso that they also use his guitarist. One of the last changes to the song makes JJ Maguire a little unhappy still to this day. To him, the song is a little heavy in guitar solos and what he describes as "Eddie Van Halen type sounds." Despite this, it doesn't matter to him because he feels that the song and album had a very positive reception with the fans, and it all worked out in the end. "People loved it, bought it, sang to it, and it was a success."
JJ is emphatic, saying that WCW had nothing to do with the album and that he, Jimmy Hart, and Hulk Hogan own the rights. He is proud that the collection of songs displays a wide variety of genres and not the same sounding tunes just rearranged. The song American Made was Hulk Hogan's theme song in WCW before forming the nWo.
Listen to "American Made" by Hulk Hogan:
During a break in the sessions, JJ Maguire asked Hulk Hogan to speak with him in the hallway to assure Hulkster that he could be trusted.
"We were eight inches apart, eye-to-eye, and I told him, 'Thank you so much for including me in all this, and it's all my pleasure. But I want to tell you one thing and be straightforward.'"
JJ Maguire claims the mighty Hulkster looked petrified because Hogan himself has admitted in his book that he avoids any unnecessary confrontation.
"Every person wants Hulk Hogan to endorse products and different gimmicks," began Maguire. "Everybody is always coming to you wanting your money. Hulkster, I'm never going to dig on your money. If I do a service for you, I expect to be well paid and paid fair, but don't you ever fear thinking that I'm going to come around begging you for money or aiming to take any of your money I'm not entitled to."
He looked at me, shook my hand, and said, "Brother, that means everything to me," remembers JJ Maguire.
"I did the work of ten musicians or more on the album," says JJ Maguire.
"If I had charged standard union rates, it would've been a quarter of a million dollars, but I agreed to do it for a lot more palatable sum and because it was Hulk Hogan, and we knew that we could make money off the back end later."
JJ Maguire on Hulk Hogan
Hulk Hogan has become one of the most polarizing figures in wrestling, but JJ Maguire has nothing but respect for the Hulkster and his contributions to the business.
"I respect Hulk Hogan and everything and what he's done for me, Jimmy Hart and Vince McMahon. In my opinion, Hulk Hogan is the best thing that wrestling ever had shown up on its front door. There were many greats, but when Hulk Hogan arrived, he blew the roof off everything."
He wants people to understand that Hulk Hogan is a character but is a normal man behind that indestructible superhero image he portrays in wrestling. "Hulk's a very nice person. People don't know Terry Bollea. Most of the public only knows Hulk Hogan. I know both people. Terry Bollea, in some ways, is like the Hulk Hogan character. Hulk Hogan is nothing but a character, an idea, and the idea is always bigger than the man."
He continues, "All great artists are misunderstood or misrepresented. 'He that is without sin among you let him cast the first stone.' We've all in our lives, done something dumb, done something we've regretted, maybe there is someone out there who hasn't, I hope there is, but we've all put a foot in our mouths. But unfortunately, when you're big and famous like Hulk Hogan, and you say the wrong thing, and it gets out, the persecutors and prosecutors are coming after you, brother! When you're on the top of the pinnacle, it's a long fall down, and there's always someone who wants to chop your legs from under you when you're successful."
Wrestling music: JJ Maguire and Jimmy Hart, or Jim Johnston?
As father time passes, history sometimes gets twisted around with fiction becoming truth and then gospel. Jim Johnston, who is a well-known music composer and musician in his own right, is many times confused by the fans as being the man responsible for the themes created by JJ Maguire. Amongst Johnston's most famous creations, we have Rest in Peace (The Undertaker), Glass Shatters (Stone Cold Steve Austin), Electrifying (The Rock), and No Chance In Hell (Mr. McMahon).
"Jim Johnston does great work, but he didn't do everything," assures JJ Maguire. "From the mid-'80s and throughout most of the '90s, Jimmy and I had more than 94% of all WWF music. Johnston only had four themes during that time." He is quick to praise Johnston for Rest in Peace, which he believes is one of the greatest wrestling themes of all time, but the music he and Jimmy Hart strived for, was different than what Johnston produced.
"Jimmy and I wrote pop hit records, so I think we had a better idea of what the general public liked. To each his own. There's something out there for everybody and room for everybody in this business."
Then there was the instance that Bruce Prichard was handed some master tapes that inexplicably got lost in one of the WWF's big moves.
"It's a mystery. The WWF claims the tapes were misplaced and lost. With this, Jim Johnston went back and reconstructed note for note what I did in a few of the songs, not very many, like three. He did this by hearing the theme on a cassette that wasn't high quality enough to use for the public. The master tapes had high-quality work, so this was to salvage them. Here Johnston should get a rearranger's credit, not a writing credit, according to JJ Maguire. He has noticed a lot of erroneous information on the internet and only wants people to be fair when crediting songs he and Jimmy Hart created.
Known even less by most fans, JJ Maguire wrote a lot of songs for wrestlers in WCW. He confesses because of the sheer amount of wrestling music he worked on, and because WCW notoriously lost many, he can't remember them all. He fondly remembers Diamond Dallas Page, Sonny Onoo, and Kevin Sullivan's Dungeon of Doom. He adds that Tony Schiavone "was an extremely wonderful person to work for, and much more instrumental in the production of WCW's shows than most fans realize."
JJ Maguire, Forever Indebted to Wrestling
"I owe a lot to wrestling," says JJ Maguire in a humble voice. "The fans wouldn't have had a chance to enjoy my music if there hadn't been a stage for it, and Vince McMahon created the world's largest stage! Who knew that after my grandfather saving Ed "Strangler" Lewis, the repayment would become so much greater than just lifetime ringside seats for me?"
JJ Maguire always likes to close his interviews the same way, and who was I to deny him that privilege?
"God gave me the talent, and I took it to the greatest show on Earth. I traveled the world with the greatest of all time and unbelievably entertained people of all colors and walks of life. Who knew wrestling was such a powerful force? I did."
You can learn much more about JJ Maguire's amazing life in music and wrestling by purchasing the book, My Life in Heaven Town, written by John Cosper.
JJ Maguire was also recently interviewed by Evan Ginzburg and Buddy Sotello on their show, "Wrestling & Everything Coast to Coast." In this interview, Maguire goes further into his music career outside of wrestling. You can watch and listen to this interview below.
If you enjoyed this piece, be sure not to miss the following articles on our site:
This post may contain affiliate links, which means we may receive a commission if you click a link and purchase something recommended. While clicking these links won't cost you any extra money, they will help us continue to bring you quality content!
---