Anything is possible at the Royal Rumble. Here is a selection of wrestlers who saw their careers greatly enhanced after their showing at this yearly fan-favorite event.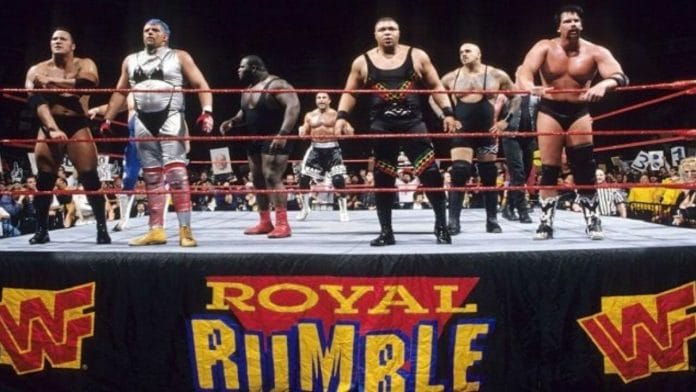 The Creation of the Royal Rumble
The Royal Rumble is a staple of WWE programming and a favorite amongst its fanbase. The over-the-top-rope battle royal can make careers in a moment, and it provides countless opportunities for unpredictable, fun television. That was the appeal of the match famously crafted by none other than Pat Patterson.
Pat Patterson recently passed away, but his creation will live on forever. Bruce Prichard, a close friend of Patterson's and a constant creative collaborator, spoke about the inception of the Royal Rumble on his podcast.
"Pat was looking for a different type of match and attraction. Pat would always describe it as legal run-ins where you could add to it throughout the match. The way Pat explained it, in the beginning, was a little confusing."
Prichard continued, "We had one [Royal Rumble] — it may have been in St. Louis or Rhode Island –- and it didn't really go that well. I don't think the live audience was all that into it. But Dick Ebersol heard the idea and kind of tweaked it a little bit as far as the selling and explanation, making it easier to understand what the hell it was. Then the Royal Rumble was built. The first one was in Hamilton, Ontario, Canada, for the USA Network [in 1988]. It was the highest-rated television show on cable for a long, long time."
Since 1993, the Royal Rumble winner is awarded a title match for WWE's top championship at WrestleMania. Currently, WWE promotes three major brands with a top championship for each, and the winner can choose which championship to challenge for, regardless of the brand they belong to.
Below, we take a look at a selection of six wrestlers whose careers were greatly enhanced due to the Royal Rumble.
1. Mick Foley
History was made at 1998's Royal Rumble when Cactus Jack, Mankind, and Dude Love all turned up to rumble.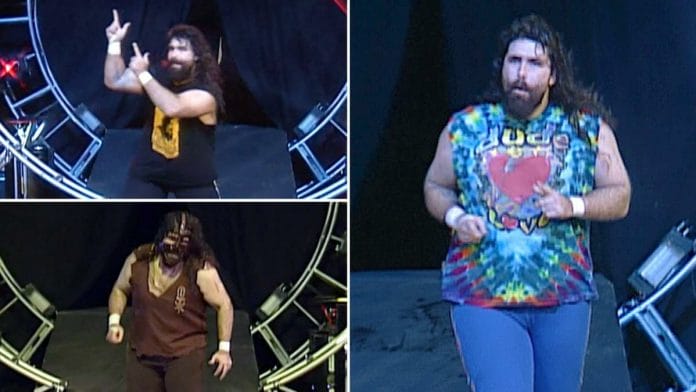 30 competitors enter, and 29 go over the top rope. However, in 1998, Mick Foley didn't seem to get the message. The former WWE Champion entered the match three times. Luck wasn't on the side for any of the three faces of Foley, though.
As Cactus Jack, Foley lasted nine minutes before his foe Chainsaw Charlie (Terry Funk) eliminated him.
Foley would return as the sixteenth entrant, this time as Mankind. He would last just over two minutes before being eliminated by The Artist Formerly Known as Goldust.
He would eventually return a third time as Dude Love in position number 28, lasting another seven minutes before being taken out by Farooq.
This was certainly one of the top moments you go to when you think about how versatile Mick Foley was as a performer.
Recommended read: Mick Foley Fall From Hell in a Cell – What Really Happened
2. Ric Flair
Although Ric Flair was a bonafide legend long before January 19th, 1992, it would mark the day he went from a low in his career to WWF World Heavyweight Champion.
Typically, the crowning glory for the superstar who wins the Royal Rumble is a championship match and a main-event opportunity on the biggest stage of them all: WrestleMania.
There have only been two exceptions in the 30-plus-year history of the match where the WWE Championship was on the line in the Royal Rumble. The first instance came in 1992.
Before the event, Hulk Hogan was stripped of his title by WWF President Jack Tunney due to a pair of controversial decisions in matches between him and The Undertaker. This gave the Royal Rumble its highest stakes to date, with 30 participants each having the opportunity to claim victory and head into WrestleMania 8 as the champion, with Hulk Hogan and Undertaker included.
Flair arrived in the WWF just five months earlier after legendary stints in the NWA and WCW. With this Royal Rumble setup, Flair had a unique opportunity to jump to the top of the food chain in just one match.
Entering as the third participant, Ric Flair pushed his endurance to the limit and delivered the performance of a lifetime, staying in the ring for over an hour before winning the match and the then-WWF Championship.
Almost as iconic as the match itself was the Nature Boy's promo afterward, in which he famously declared, "I'm gonna' tell you all, with a tear in my eye: This is the greatest moment in my life."
It remains the Royal Rumble moment for many wrestling fans, and it resonates with Flair to this day.
"What made it special was, number one – I didn't know I was going to win it," Flair said in an interview with Sky Sports. "And number two, I had just left Atlanta (WCW) with no self-confidence. I just couldn't figure out how Jim Herd couldn't see who I was. He didn't understand.
"I went from Atlanta to Albany, New York, and my life changed in one day. Literally, one day, that's the truth.
"One day, I was just trying to figure out what I was going to do, and the next day I was the champion.
"When I was walking back down the aisle, Pat Patterson came to me and said, 'You've got a promo.'
"That was it. He said, 'Talk about how happy you are,' and I said, 'No problem.' What I said was directed right at Jim Herd and anyone who had anything to do with WCW.
Further reading: Why Ric Flair Shockingly Left WCW for Arch-Rival WWF in 1991
3. Shawn Michaels
Without the Royal Rumble, no one knows where Shawn Michaels would have ended up. Both of his wins were huge moments in his career. The 1995 victory, of course, is famous for the ending.
Shawn starts at number one. The British bulldog at number two. They both then go the distance and wind up as the final two in the match. They're exhausted but pushing through. Bulldog dumps HBK over the top and thinks he's got the win, but Shawn managed to hold onto the top rope and make it so only one of his feet hit the ground. The Heartbreak Kid then pulls himself back in and dumps out Davey Boy Smith, who got ahead of himself and started to celebrate.
"That match- I thought it was a huge opportunity," Shawn Michaels admits. "[Up until that point], had anybody ever gone in number one and won it? No. To go that kind of distance… If you don't want it more than every other guy in there, then you're gonna get eliminated. The dangling, and the one foot, and then coming in; that is about the greatest thing you can think of."
It's a fantastic moment and did a lot to show that resiliency fans came to love from Shawn Michaels.
It was a similar situation in 1996, but it felt much more forced. Shawn was coming off the Owen Hart concussion incident when he won his second Royal Rumble. It was all part of an angle to turn him into a full-fledged good guy, and it worked with this writer. That Rumble win took Shawn to WrestleMania XII, where "the boyhood dream" came true.
Somehow, that's not where we end. There's also the 2007 Royal Rumble, which is notable in a very real way. The final two are Shawn Michaels and The Undertaker. The two of them finish that match off with an incredible exchange. It would serve as a preview of the WrestleMania excellence that would come.
Recommended read: Shawn Michaels and Undertaker | The Real Story Behind Their Feud
4. "Stone Cold" Steve Austin
"Stone Cold" Steve Austin is practically the poster boy of what the Royal Rumble match can do for you. He won in 1997, 1998, and 2001, and each created huge moments in his career.
The '97 one might have been the most influential. That obviously went down under controversial circumstances, where Stone Cold snuck back in after being eliminated and tossing out Bret Hart to win, who had already eliminated Austin.
Watch this memorable moment unfold below:
Not long later, Shawn Michaels lost his smile, bounced, and vacated the WWF Championship. This took us to the Final Four match one month later between Bret Hart, Steve Austin, Vader, and The Undertaker at In Your House 13: Final Four, where Bret Hart came up victorious for the title. This would lead us to WrestleMania 13.
The submission match between Steve Austin and Bret Hart would become one of the most important matches in Stone Cold's entire career. It solidified the "Stone Cold" Steve Austin that would completely take over the professional wrestling world.
On an episode of Edge and Christian's Pod Of Awesomeness, Austin broke down this match's importance.
"With all the flip, flop, and flying going on now, this match, although it was done at WrestleMania 13, all these years later, this match still holds up because of the physicality, because of the intensity. There's nothing crazy that goes on in this match, but because it's so real, it will hold up to the test of time."
That's not meant to undervalue Austin's wins in 1998 and 2001 or the whole Vince McMahon of it all in 1999. Those three matches were all big moments, too.
The '98 victory took us to the Stone Cold era's birth, including the Mike Tyson exchange and the WWF Championship win against Shawn Michaels at WrestleMania XIV.
The 2001 win also propelled us to see Stone Cold against The Rock in the main event of WrestleMania X-7, which ended with Austin and Mr. McMahon joining forces. That wound up not being the best thing in retrospect, but it was still the top match on a massive event — one that is still a favorite among fans.
There's an argument to be made that "Stone Cold" Steve Austin saw the greatest career boost of all from his time in the Royal Rumble. That makes it all the more interesting that he was quoted as saying he's not a fan of the match while speaking with Fox Sports.
Stone Cold was asked if he had any favorite Rumble memories, and The Rattlesnake had this to say:
"I'll share this with you. I won three Royal Rumbles, but I didn't really like Royal Rumbles because there's so much going on.
"So many things that can't go wrong because everything's gotta work out. You know what I'm speaking of, without just spelling it out.
"I'll never forget in San Diego at my first Royal Rumble. I was supposed to be the fourth guy left in the ring, and Rikishi, or somebody, gave me a clothesline, and the ropes were so baby oiled up from everybody wearing baby oil, I slipped.
"There was a bunch of guys in the ring, and I went out way early. I hit the ground, and I'm still pretty new in the company at this time, but they're gonna try to keep me in the Rumble, so they're giving me a little bit of a push, and I blew it!"
Further reading: Steve Austin – Baby Oil Mishap Eliminates Him from the Royal Rumble
5. Roman Reigns
This is a take that could have sparked off all sorts of irrational rage even a year ago. Now, we have The Tribal Chief Roman Reigns, and everyone loves to hate him. However, before Roman started embracing his heel persona on camera, he was used as a lightning rod in the Royal Rumble.
In the 2015 Rumble, Roman won the match over several fan favorites. As a result, the crowd did not respond in kind. Fans were so incensed by the outcome that it even got The Rock booed. Let that hit you.
"It was rough," Roman acknowledged in an interview on the HOT 97 Morning Show. "It's crazy because it was one of the most special nights of my life, but it didn't go exactly like I'd hoped or planned. So it was emotional. It was a roller coaster. When you're out there in that ring, there's a lot of emotion and passion going on. I love what I do. I love this form of art. So to get that negative response, it can hurt your feelings."
Roman Reigns was among the final two in 2020, 2018, and 2017. Reigns was used effectively in this role. Each time he was eliminated last, the crowd exploded into cheers to celebrate the man who tossed out The Big Dog. It was a simple and foolproof way to get the most favorable reaction possible for the winner.
At WrestleMania 33, Roman Reigns "retired" The Undertaker. This all began at 2017's Royal Rumble and took us to the main event of 'Mania. That was a massive time in his career. It was also another log on the fiery hatred that burned for Roman Reigns among the fanbase. The Monday Night Raw opening after that WrestleMania was insane, and "The Head of the Table" ate that heat right up.
6. Edge
With winning January 31st, 2021's Royal Rumble match, Edge became the third person in history to win the Rumble after entering at number one. He outlasted 29 other individuals, including a returning Christian and a sneaky Randy Orton, to win the bout.
The "Rated-R Superstar" made his extraordinary comeback to the ring one year before at the 2020 Royal Rumble after being retired for nine years due to severe neck issues.
Ten years to the day following his previous 2011 Rumble victory, this one felt extra special for Edge. Not only was he able to share the ring with his lifelong best friend and former tag team partner Christian, but his final elimination was also none other than Randy Orton, someone he has had his fair share of memorable moments with in the past.
After his victory, Edge spoke to the WWE Network on what this win meant to him.
"If you had told me four years ago that I'd be in the Royal Rumble, enter the match first, win it, and go onto WrestleMania- I feel like I still need to pinch myself and feel like I'm going to wake up," he said.
Edge added that Christian's comeback made his moment all the more memorable.
"It still doesn't make sense. And for Christian to also be in there, if you wrote this as a script for a Hollywood movie, they'd say it's impossible. It can never happen. Yet, here we are."
Edge continued, "I still don't get it. I think I'm going to stop trying to get it and just enjoy it. I'm going to stop analyzing why and how. F*** it. It's happening, and it's awesome, and I feel great, and I have my best friend back with me again. I couldn't be happier."
You can watch Edge's backstage reaction to his victory below:
As a creation, the Royal Rumble is one of the greatest assets the WWE has in creating new stars or breathing life back into the old. 2020's match was specifically crafted to get Drew McIntyre to the next level. Many fans disliked how Brock Lesnar dominated the first half of that match, but the reaction Drew got for eliminating him was huge. What followed is one of the best babyface runs of the modern WWE era.
We couldn't close this out without mentioning how the women get to share in the wealth of this experience, too. Sasha Banks was the first iron woman to put on a killer performance in the inaugural Women's Royal Rumble in 2018. Of course, Asuka won that match, but Banks's 54 minutes and 48 seconds saw her shine. Becky Lynch's win in 2019 was a huge moment, too, that took us to the first women's WrestleMania main event.
Strong performances and victories at the Royal Rumble etch names in the history books. It also has the ability to change the life and career of a wrestler forever. There's a reason it's a favorite among WWE fans, as anything is possible.
If you enjoyed this piece, be sure not to miss the following articles on our site:
---