As part of World Class Championship Wrestling, Kevin Von Erich and his family graced television screens throughout Israel on Middle East Television on Saturday nights. To say that professional wrestling was a big deal in Israel in the 1980s and '90s would be a vast understatement. During this time, WCCW was the most popular English-language program in all of Israel.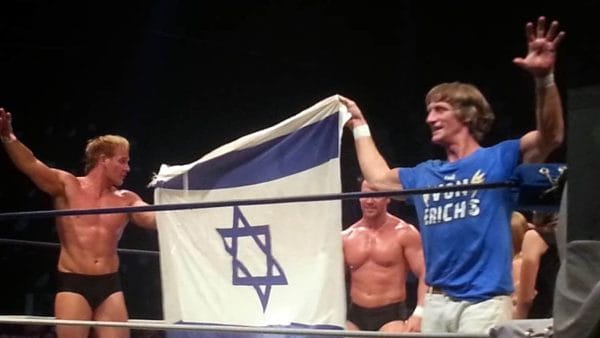 The Special Relationship Between The Von Erich Family and Israel
Reddit user, Yuval Sneh, shared a photo of an original World Class Championship Wrestling belt he came across while shopping in Tel Aviv, Israel. The inscription alongside the belt read: "The original WCCW wrestling championship belt held by legendary wrestlers Kerry & Kevin Von Erich. Was given to Dizengoff Center for safekeeping with love by the family."
Here we have a championship belt with such incredible history behind it on display, seemingly at random in a mall in Israel. While it may seem peculiar that the belt would be found in an unexpected place like this, there is so much more to the story.
In April 1985, Kevin visited Israel on his own and was met with tremendous fanfare. A few months later, he and his brother Mike ventured out that way again. In recognition of this momentous visit, WCCW created a WCCW Middle Eastern Championship, which Mike Von Erich won by defeating Gino Hernandez on August 7th, 1985.
The Popularity of Wrestling in Israel
Reaching out to us privately after we shared the above photo on our Twitter account, Kevin described why The Holy Land holds such a special place in his heart.
"Former-Israeli Prime Minister Shimon Peres told me in 1995 that the only dependable ceasefire was when wrestling was on. In April of 1985, I went alone to Israel for two weeks. I was shocked!"
Kevin continued, "I have seen big crowds before, but this was off the charts — all commercial trade was stopped my first day in all of Tel Aviv. They made me rearrange my itinerary so all other cities would be 'unannounced.' It was still packed everywhere I went. The military took over my security with Jeeps in front and back; they called me 'Their Cultural Icon of the '80s.'"
Regarding the WCCW Middle Eastern Championship, Kevin Von Erich explained, "Mike won the Middle East title. He and I were 'on the same page' in Israel. Mike loved them like I did, too." As for the Texas Tornado, "Kerry wasn't into history really, not as much as Mike and I were. Mike and I were very close."
The Final Ever Match of Kevin Von Erich in Israel
On July 9th, 2017, Kevin Von Erich went back to Israel, wrestling in his very final match with his sons, Ross and Marshall, alongside him. He wrestled against the founder of Israeli Wrestling- Rabbi Swissa (Gery Roif), Marty Jannetty, and Jumping Lee. With more than 1,000 fans in attendance, this was the biggest wrestling event in Israel since WWE visited in 1994.
Kevin recounts this experience fondly.
"It was incredible how they treated my family last July [2017]. They have not forgotten a thing, and my sons are loved by all. I love those people there; it's an awesome place. This wrestling business put me in a position to be a positive force to God's chosen people. I have a special relationship with them, as I have and will never take money from them. Even with my huge deal with Coca-Cola in 1985, I only took my expenses and never profited from The Holy Land. I have never told anyone that!"
Professional wrestling has a beautiful way of dissolving enemy lines, bringing everyone together. We are very grateful to Kevin for sharing this incredible story with us and for allowing us the opportunity to share it with our readers.
In closing, Kevin reflects on his life and thanks us for allowing us to be a platform to share his memories.
"Thank you for the encouragement. One day I want to be able to say: I did my best, God gave me the athletic ability, I want to use it wisely, make a difference, to 'do the right thing' or to show what I have learned. Not to be a pop off, but to remember that Jesus acted as a servant like I want to be."
If you enjoyed this piece, be sure not to miss the following articles on our site:
---