Family Names in Wrestling
A family name carries a lot of weight in the world of professional wrestling. Just a mere mention of Anoa'i, Hart, Guerrero, or Von Erich is sure to drum up memories for wrestling fans and non-fans alike.
That said, there have been several wrestlers whose family relations were kept off television for varying reasons. For some, it even led to punishment backstage!
1- Hulk Hogan, Horace Hogan, and Mike Awesome
Perhaps the most famous wrestler of all time, Hulk Hogan was a household name wherever he went. Hogan always seemed to be on top of whatever promotion he was in, whether the heights of '80s WWF, '90s nWo, TNA, and WWE in the 2000s.
However, one promotion Hogan never stopped by was the stomping grounds of Mike Awesome: ECW.
A former 2-time ECW World Champion and ECW tag champion, Mike Awesome was pushed for his crazy athleticism for his size and memorable matches with Masato Tanaka.
By 2000, both Hogan and Awesome were, for a short period, in the same promotion simultaneously. Moving over to WCW whilst ECW World Champion due to financial dissatisfaction meant that Awesome and Hogan were both in Atlanta.
During this time, Awesome received a rare pinfall victory over Hogan in a "No DQ" match on Nitro amidst the New Blood vs. Millionaire's Club storyline.
Although Mike Awesome and Hulk Hogan aren't directly related, Awesome is first cousins with Michael Bollea (Horace Hogan of WCW fame), whilst Michael is the nephew of Terry Bollea (Hulk Hogan).
Mike Awesome theorized in a 2003 HighSpots interview that his mishandling in WCW, where he was recast as the "Fat Chick Thriller" and "That '70s Guy", was a punishment from Vince Russo for being "too close of kin" to Hulk Hogan after Hulk walked out of WCW after Bash at The Beach in 2000.
2- Greg Valentine and Brian Knobbs of The Nasty Boys
Despite having similar bleach-blonde hair, it is still surprising for some that these look-a-likes are related.
With Greg "The Hammer" Valentine debuting in the WWF in 1984, he became a mainstay of the company for many years. Valentine had more than his fair share of success before his future relative arrived in the company as a former Intercontinental and World Tag Team champion.
As the Nasty Boys were almost exclusively a tag act, they had little interaction with Valentine after their WWF debut in 1990.
Coincidentally, both left the WWF around a year apart, with "The Hammer" exiting in 1992 and the Nasty Boys leaving in 1993.
In 1994, Knobbs married Toni, sister of Greg Valentine's wife, thus becoming Greg's brother-in-law. Valentine and Knobbs would occasionally cross paths after this (such as in WCW), but the family relationship between them was never mentioned on air.
3- Jerry "The King" Lawler and the Honky Tonk Man
Both Jerry "The King" Lawler and the Honky Tonk Man are synonymous with Memphis. Still, many fans may not realize that the self-proclaimed "Greatest Intercontinental Champion of All Time" and "The King" are actually first cousins.
Whether as a beloved face or reviled heel, Jerry Lawler was always a massive draw in his hometown of Memphis.
Winning around 150 championships throughout his career, his "King" moniker has served him for nearly his entire wrestling career.
On the other hand, cousin Wayne Ferris took the moniker of the "King of Rock N Roll," taking inspiration from the '50s musical revolution in Memphis. When redubbed "The Honky Tonk Man" in the WWF, he took his look and charisma from Elvis Presley.
Still the longest-reigning WWE Intercontinental Champion of all time at 454 days, HTM is memorable for incorporating the city of Memphis in his gimmick, doing it differently from his cousin.
Jerry "The King" Lawler and "Grandmaster Sexay" Brian Christopher
Jerry Lawler's real-life son Brian Christopher Lawler joined the WWF in 1997 as a part of the Light Heavyweight Division. Christopher would later become Grandmaster Sexay and get fans on their feet as part of the team Too Cool alongside Rikishi and Scotty 2 Hotty.
Whilst Lawler and Brian Christopher were occasionally referenced as being related on commentary, the Honky Tonk Man and Jerry curiously were not.
4- Jake Roberts, Rockin' Robin, and Sam Houston
Aurelian "Grizzly" Smith, who made a name for himself in the NWA days of the '50s, fathered three children who would follow in his footsteps into the business of professional wrestling.
Having anchored the WWF's women's division for decades, the notorious Fabulous Moolah's absence heavily impacted the female roster's state. With only a few big names in their division, Rockin' Robin was a memorable female of the era, holding the WWF Women's Championship for 502 days from October 1988 until February 1990, when she left the company.
After a long-running feud with Judy Martin, including a bout at the 1989 Royal Rumble, the lack of star power was obvious, with Robin not defending the belt at WrestleMania 5. Instead, she opened the show by singing "America The Beautiful."
By 1990, the belt was deactivated and not brought back for nearly four years.
Robin is Michael Smith's sister (known for his time in the business as Sam Houston). Robin and Michael are also half-siblings to a much more famous name in the business: Aurelian Smith, who fans remember better as Jake "The Snake" Roberts.
Around Robin's title reign in the WWF, her brother Jake Roberts turned on-air from a cold and callous killer to a more sympathetic and justice-fighting warrior, feuding with Rick Rude, André The Giant, and the "Million Dollar Man" Ted DiBiase.
In terms of championship gold, Robin held more titles and for longer than her brothers. In fact, "The Snake" never won a championship of any kind during his time in the WWF.
No connection was ever made on television between Roberts and Robin, although Jake's wife Cheryl was part of a WWF storyline amidst his feud with "Ravishing" Rick Rude.
Sadly, the Smith family is riddled with stories of abuse at the hands of Grizzly Smith, and their unfortunate story is soon to be spotlighted in an episode of the third season of VICE's Dark Side of the Ring.
5- Terry Gordy and Ray Gordy (AKA "Jesse" and "Slam Master J")
Most famously known as The Fabulous Freebirds' powerhouse, "Bam Bam" Terry Gordy also made a name for himself as a member of the bruising Miracle Violence Connection and as a solo star as an ex-Smoky Mountain Wrestling Champion and the inaugural UWF World Heavyweight Champion.
Despite being praised as one of his era's greatest athletes, his son was not given much hype in the business.
Not being billed as Gordy's son, instead, Ray Gordy was teamed with Festus (the future Luke Gallows), where they were used mostly as comedic fodder.
In the team of Jesse and Festus, Jesse Dalton (Ray) was depicted as the handler of the mentally challenged Festus.
Ray would make his WWE television debut 23 years after his father debuted in the then-WWF in 1984 as a member of the Fabulous Freebirds.
Once separated by the 2009 brand split, Jesse was repackaged as a solo act, becoming a white, wannabe-thug rapper named Slam Master J.
Debuting on Cryme Tyme's 'Word Up' internet show, Slam Master J would soon make regular appearances with Jimmy Wang Yang.
After competing in the 26-man battle royal at WrestleMania 26 (won by Yoshi Tatsu), Ray left the WWE to pursue a career as a police officer in Atlanta, Georgia.
Terry Gordy and Miranda Gordy
Ray isn't the only child of Terry Gordy who has stepped foot into the ring. Currently rising the ranks on the independent scene is Terry's daughter, Miranda Gordy.
6- Blackjack Mulligan, Barry Windham, Mike "IRS" Rotunda, Bray Wyatt, and Bo Dallas
Although not discussed as much as some of the other wrestling families, the Windham/Rotunda family is a huge and star-studded one.
Firstly, we start with Blackjack Mulligan – a 300+ pound, 6'8 hoss.
Mulligan is a former NWA US champion and WWWF Tag Team Champion, and a WWE Hall of Famer. A tough grappler in his own right, Mulligan managed to survive a stabbing by a crazy fan that needed around 100 stitches to sew his back shut.
Mulligan has sons Kendall and Barry Windham. Although Kendall had a short stay as a member of WCW's Texas Rednecks stable – Barry is the much more known son.
A member of the Four Horseman, former NWA Champion, and former Television Champion, Barry Windham also has his own unbelievable real-life story.
He once shot himself in the leg, proceeded to dig the bullet out with a pocket knife, and still wrestled that very night!
Former US Express member Mike Rotunda, who would later play the role of the tax-demanding Irwin R. Schyster ("IRS"), is married to Barry's sister, making them brothers-in-law.
IRS is the father of Wyndham and Taylor Rotunda — who are known better today as Bray Wyatt and Bo Dallas.
This, therefore, creates a complicated web of relationships as Blackjack Mulligan is Bray Wyatt and Bo Dallas's grandfather, Kendall and Barry Windham are the brothers-in-law of Mike Rotunda, and Bo Dallas and Bray Wyatt are the nephews of Kendall and Barry Windham.
7- Eddie Guerrero and Aiden English
Eddie Guerrero is one of many in a long line of wrestlers from the acclaimed Guerrero family, which included the likes of Chavo, Chavo Sr., Gory, and Héctor.
In 1990, the "Liar, Cheater, and Stealer" married Vickie Benson (now known better as Vickie Guerrero).
Eddie was soon taking the wrestling industry by storm. He was a massive star in AAA, NJPW, ECW, WCW, and WWF/E. Whether he was a workhorse mid-carder, tag expert with nephew Chavo, Dean Malenko, Art Barr, or a top-level challenger – he was always a popular attraction and incredibly talented hand in the ring.
Another playful babyface and reviled villain is Guerrero's son-in-law Aiden English.
Eddie and Vickie's daughter Shaul had a short run in WWE under the name Raquel Diaz on NXT from 2012-2014. In 2016, she married Aiden English, changing her surname to Rehwoldt (Aiden's real last name).
Aiden English is Married to Eddie Guerro's Daughter, Shaul
Aiden English had success on NXT as a member of the Vaudevillians alongside Simon Gotch. A duo of popular time-traveling grapplers, alongside manager Blue Pants, they held the NXT tag titles, winning them at NXT TakeOver: Brooklyn in 2014. They would hold the titles for five months.
Despite the act floundering when brought up to WWE's SmackDown brand, English managed to find new life once Simon Gotch was released from WWE.
Following his former partner's departure from the company, Aiden went on to form the Rusev Day alliance alongside Rusev and Lana.
It cannot be overstated the popularity of Rusev Day at their peak, and WWE's mishandling of their momentum was just another example of the company "dropping the ball."
Aiden's father-in-law Eddie Guerrero sadly passed away before the two could meet in September 2005. Shaul Guerrero is no longer wrestling, and Aiden is taking a break from the ring to pursue other interests – now sharing his stories of the ring and love of whiskey on his YouTube channel Wrestling With Whiskey.
8- The Undertaker and Brian Lee
Brian Lee would find success in ECW and SMW under the guise of "Prime Time" Brian Lee.
In Smoky Mountain Wrestling, Lee was one of the company's focal stars where he held the world title, "Beat the Champion" title, and tag titles all two times.
His run as "The Killdozer" in ECW led to no title gold but a memorable table-based feud with Tommy Dreamer when aligned with Raven's Nest and as a member of the Triple Threat stable alongside Chris Candido and Shane Douglas.
Lee would later return to the WWF as a member of the biker gang, the Disciples of Apocalypse, and was renamed "Chainz."
DOA spent most of their time facing off against Los Boricuas or the Truth Commission, often tucked deep in the undercard during the Gang Wars storyline.
Brian Lee Would Portrayed His Cousin as the 2nd Undertaker at WWE SummerSlam '94
Fans might remember, for better or worse, the Undertaker vs. Undertaker main-event match at SummerSlam 1994. What many may not realize, though, is that the pair are actually cousins.
Brian Lee would leave the WWF in the summer of 1998. In stark contrast, Undertaker main-evented SummerSlam that year in the top-drawing SummerSlam event in company history.
9- Fred Ottman, Dusty Rhodes, Dustin Rhodes, and Cody Rhodes
It is not uncommon to know that Cody and Dustin Rhodes (formerly known as Goldust) are half-brothers and the sons of Dusty Rhodes. However, a lesser-known fact is that Dusty Rhodes was the brother-in-law of Fred Ottman.
Debuting for the WWF in 1989, Ottman was initially given a sailor's hat and red-striped singlet to play the role of Tugboat.
According to Bruce Prichard on his podcast "Something to Wrestle," the original plan was for the behemoth to actually become "Sheik Tugboat," an Iraqi sympathizer set to challenge Hogan at WrestleMania for the world title. Instead, Tugboat was soon repackaged as an entirely different entity.
Tugboat converted his wave adventures for natural phenomenons when he became Typhoon. He would soon join forces with another result of movements within the earth's crust: Earthquake.
The Natural Disasters Tag Team
As part of the Natural Disasters tag team, Typhoon and Earthquake won the world tag titles once, winning the straps from Money Inc. (Ted Dibiase and Irwin R. Schyster) at a house show. They would hold the titles for nearly three months.
However, Fred's legacy was never truly cemented until his debut in WCW as The Shockmaster.
Fred Ottman as The Shockmaster
Debuting under unfortunate circumstances, Ottman infamously tripped after breaking through a wall, causing his Startrooper-esque helmet to fall off and the other wrestlers on set to break character.
In a recommended interview on The Genius Cast podcast, Ottman opened up about what happened.
"The glitter was getting in my eyes," Ottman explained in his recommended interview on The Genius Cast podcast. "The secretary peeled off pieces of her pantyhose, made them into patches, and glued them over the eye holes. I could barely see out of the eye holes, but now I was totally blind!
"They also told me they hadn't gimmicked the wall. It was just like a wall, like if you'd go from your kitchen to your dining room. I had to bust through it. They told me I was going to have to hit it hard.
"I got the cue, and I made a double ax handle, raised my arms above my head, and blasted the wall. I was standing 5 or 6 inches from it as I hit it as hard as I could. I blew the wall out and became a human teeter-totter because of an unstable board just below my knees. I really did shock the world!"
Ottman is married to Cody's mother's sister, making Fred the uncle of Cody and the brother-in-law of the late Dusty Rhodes.
Jerry Sags of The Nasty Boys is Related to Dusty, Dustin, and Cody Rhodes
And if these relations were enough, former Nasty Boy Jerry Sags is the uncle of Cody Rhodes, the uncle of Dustin Rhodes, and the brother-in-law of Dusty Rhodes.
10- Ric Flair and Conrad Thompson
Whilst Conrad Thompson is not particularly a wrestler, he is nonetheless a big personality in the wrestling world today.
Flair is undoubtedly one of the biggest draws in wrestling history – anchoring the NWA through its peaks and troughs. As a multi-time world champion in the NWA, WCW, and WWF, the "Nature Boy" is generally regarded as one of – if not the – greatest wrestler of all time.
The Success of Ric Flair's Family in Wrestling
Besides his own huge success across the wrestling industry, Ric Flair's family has also had their successes in the sport.
Most significantly, daughter Ashley Fliehr (better known as Charlotte) is well on her way to leveling her father's 16 world title reigns.
With 7 SmackDown women's title reigns, 6 Raw women's title reigns, a Divas title reign, and 2 NXT women's title reigns, on top of a women's tag title reign, she is the present and likely future top female star of the WWE.
Charlotte has helped revolutionize women's role in pro wrestling – involving having the first-ever women's pay-per-view main event and even main-eventing WrestleMania in 2019.
Ric Flair's oldest child, David Flair, is a former United States and tag team titleholder in the latter-day WCW.
Tragically, however, son Reid Flair passed away prematurely in 2013.
Marrying a Flair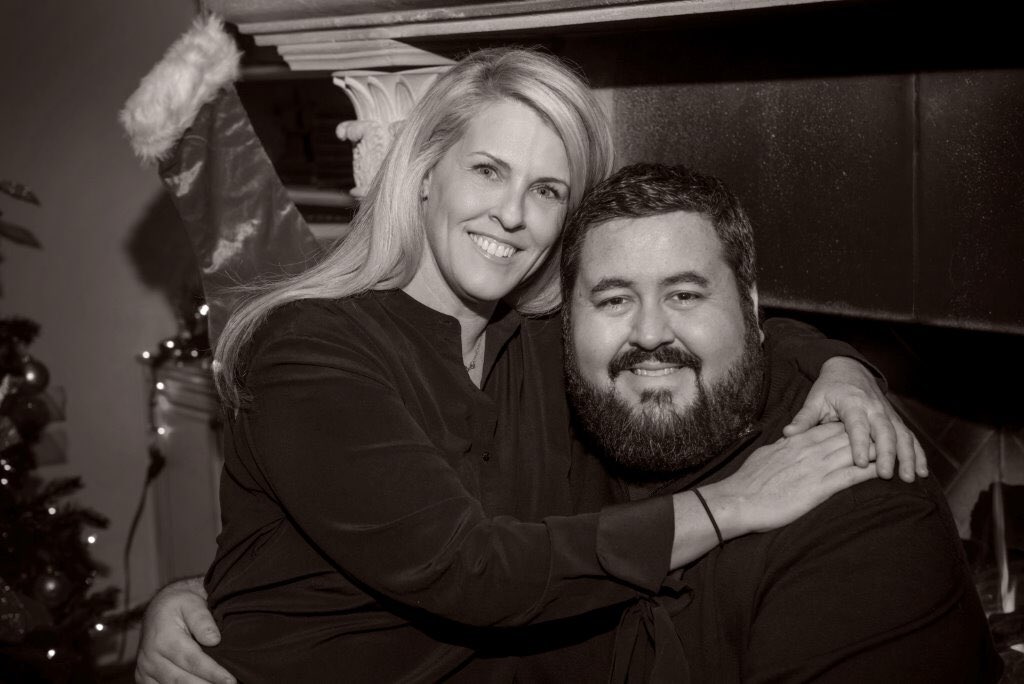 In 2018, Conrad Thompsom married Ric's non-wrestling daughter Megan Fliehr. Consequently, the Alabama-born mortgage broker was now the son-in-law of the master of the Figure-4 Leglock – as well as the brother-in-law of Charlotte, David, and Reid.
A mass collector of wrestling memorabilia, Conrad is now one of the biggest names in the wrestling podcast world. Thompson also promotes Starrcast – an all-things-wrestling convention featuring personalities who do interviews, meet-and-greets, and merchandise-selling. Conrad's podcast empire includes podcasts with Ric Flair, Arn Anderson, Kurt Angle, Eric Bischoff, Tony Schiavone, Jim Ross, and Jeff Jarrett.
Growing Up The Daughter of a Wrestling Heel
They couldn't enter the arenas with their father. They had to act like they didn't know him. These extreme measures were in place to protect them.
These wrestling heels caused mayhem throughout the wrestling territories in the 1960s, '70s, and '80s, and it created quite the unique family dynamic at home — especially for their daughters!
Read: Growing Up The Daughter of a Wrestling Heel
Wrestling Families and Their Brave Tales of Tragedy
"He was a sweetheart of a guy. Always jovial, happy, and cracking jokes. It's just a shame to see that he's gone."
From the Anoa'is, Harts, Von Erichs, and beyond, these wrestling families have had their fair share of tragedy over the years!
Kayfabe in Wrestling: Stories Fans Shouldn't Know
Vince McMahon: "It was the right thing to do. It was being honest with the audience!"
Bret Hart, Ricky Steamboat, Mick Foley, and more share shocking tales of the times wrestlers had to preserve kayfabe during a time when the business was heavily protected.
Read: Kayfabe in Wrestling: Stories Fans Shouldn't Know
Arn Anderson on the nWo Spoof That Hurt His Family
One week after Arn Anderson retired from in-ring competition, the nWo mocked the Four Horsemen, Arn, in particular. What followed, to this day, is divisive amongst fans and those involved!
Read: Arn Anderson on the nWo Spoof That Hurt His Family
Bruce Hart: The Secret Tale of a Hart Brother
BRUCE HART: "I was developing all these guys who would end up in WWE and not getting a penny of it with Vince McMahon basically pillaging the promotion. My dad got tired of being a farm system for those ********!"
Read: Bruce Hart: The Secret Tale of a Hart Brother
Owen Hart's Death: What Really Happened, From Those There
VINCE McMAHON: "Earlier that day, I was shocked and surprised by what Owen said."
On May 23rd, 1999, the wrestling world mourned the loss of Owen Hart. People behind the scenes on this unthinkable day reflect on the tragedy, answering the all-important questions.
Learn more in Owen Hart's Death: What Really Happened, From Those There
---
This post may contain affiliate links, which means we may earn a commission at no extra cost to you. This helps us provide free content for you to enjoy!
---
Pro Wrestling Stories is an MSN Syndicated Publication.