Scott Hall tells the story of the time he had no choice but to deliver a bit of rough justice to Marty Jannetty after being wronged by him.
The fight between Batista and Booker T was so intense, both men were left swollen, and it took a half dozen superstars to separate them.
The real-life fight between Randy Savage and Bill Dundee was a huge part of Memphis Wrestling history. These are the events that led to their brawl.
Here are 4 times 'fans' startlingly ambushed a wrestler. Dive into the insanity of these moments and how wrestlers took care of things after.
Chris Jericho tells the time Kofi Kingston challenged Vince McMahon to a fight after a 4-hour JD-infused private jet journey
When The Nasty Boys felt numbers were in their favor, they were not afraid to confront anyone. On this night, Ken Shamrock was no exception!
Andre the Giant and Akira Maeda in the ring together created volatility, and much like a forest fire, it only needed a spark.
Live events are supposed to be more of an intimate experience for the fan, but this one time, a fan got a little too close to Randy Orton!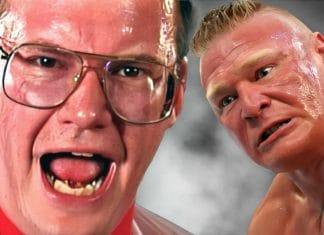 Things boiled to an extreme after Brock Lesnar squeezed the wife of Jim Cornette inappropriately after she had asked him not to.
An MMA fight between Kurt Angle and Ken Shamrock was all but ready to occur. Here is how this epic battle almost went down.