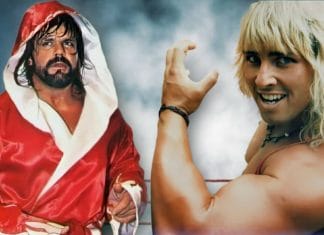 At a May '91 UWF taping, Herb Abrams paid Dr. Death Steve Williams to "take care of" Steve Ray. The ensuing shoot quickly turned dangerous.
In 1986, wrestler Adrian Adonis picked the wrong person to mess with, and according to witnesses, Dan Spivey almost ended Adonis's life.
During a 2001 taping of WWF Metal, Perry Saturn made a questionable decision with wrestler Mike Bell that changed his career for the worse.
When Earthquake John Tenta and Kōji Kitao faced off in 1991, things turned very real. It would soon become headline news all over Japan.
In 2002, Missy Hyatt and Bill Alfonso did battle, not in the ring, but the TV courtroom of Judge Mathis. It made for one entertaining case!
231 days into his 173-0 win streak in WCW, Goldberg and William Regal met in the ring. Here is how it all went wrong that night in El Paso.
Some of the most legendary feuds in wrestling involved wrestlers who had real-life animosity outside of the ring. Here are 5 such examples.
New Jack locked himself in a room as 20 police officers arrived. Of all the things to cause chaos, this was the last thing people imagined.
From taking on schoolboys to discovering pro wrestling off of the advice of a mafia godfather, the story of Mad Dog Vachon is quite a tale!
In the ring, Steve Blackman went by the nickname "The Lethal Weapon." As these stories show, he is so much more than that.